LONDON, CMC – Sprint superstar Usain Bolt's aura of invincibility finally broke when he was stunned by the American duo of Justin Gatlin and Christian Coleman in the last 100 metres race of his decorated career, in a dramatic final at the IAAF World Championships here yesterday.
The Jamaican was once again plagued by a poor start and with his trademark mid-race acceleration never quite fnding gear, he was left with too much to do over the last 40 metres as Gatlin leaned in to take victory in 9.92 seconds.
Coleman was second in 9.94 seconds while Bolt, who will call time on his career following the championships, third in a season-best 9.95 seconds.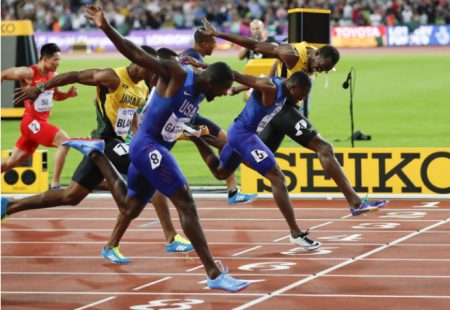 "It is just one of those things. Thank you to London for all your love and appreciation," Bolt said following his first-ever defeat at a major championships since shooting to stardom in 2008.
"My start is killing me. Normally it gets better during the rounds but it didn't come together. And that is what killed me. I felt it was there."
He continued: "It was rough, a little bit stressed. But I came out like at any other championships and I did my best. Thanks for the support. I could never expect this from any other crowd. They are what pushed me to do my best."
Gatlin, beaten by Bolt at last year's Rio Olympics, paid tribute to the multiple-time World and Olympic champion.
"It's just so surreal right now – I jumped in the crowd and went wild," said the 35-year-old Gatlin, a former drugs cheat, who was booed by sections of the crowd at the Olympic Stadium.
"Usain has accomplished so much in our sport and inspired others like Coleman to come out and compete in the championships."
Running out of lane four, Bolt was away sluggishly as Coleman in lane five, along with Frenchman Jimmy Vicaut in lane three and China's Bingtian Su, in lane two, burst to the front over the first 30 metres.
At the half-way mark, Coleman had assumed control of the race with Bolt still struggling to make up ground but the veteran Gatlin stormed through in lane eight to nip both Bolt and Coleman on the line.
Yohan Blake, Bolt's training partner, was fourth in 9.99.
There was also disappointment for Jamaica in the men's discus final as it failed to produce any medals for Jamaica, despite the presence of Fedrick Dacres and Traves Smikle.
Dacres, who entered the championships as the second best in the world, never found his groove and finished out of the medals in fourth position.
His best throw on the day was 65.83 metres
"I can't say I'm disappointed in my series; I just didn't get a good pull on it," he said.
"In 2013 I didn't even made the final and in 2015 I came seventh, so I improved. I am not trying to make any excuses, but I think I am building on what I have."
Andrius Gudzius of Latvia topped the field with a personal best 69.21m to beat Daniel Stahl of Sweden (69.19) and Mason Finley of United States (68.03).
Smikle finished eighth with 64.04m.
Earlier, in the morning session, Olympic champion Jamaican Elaine Thompson cruised into the semi-finals of the women's 100m, set for this evening.
Thompson, who raced out of the blocks before easing down in the last 20 metres, crossed the line in 11.05 seconds.
Jamaica will have three others – Jura Levy (11.09) Natasha Morrison (11.21) and Simone Facey (11.29) – in the next round after they all advanced.
Trinidad and Tobago's Michelle-Lee Ahye (11.14) and Kelly-Ann Baptiste (11.21) were the other regional women to make progress.
Two of the main challengers for the title, Dutch star Dafne Schippers (11.08) and American Tori Bowie (11.05), also booked their tickets.
Meanwhile, five Caribbean men made it through in the one lap event.
Bahamian Steven Gardiner was the best of the region's men with 44.75 seconds to take the top spot in heat four while Jamaican Nathon Allen topped heat six in 44.91.
Jamaica's Demish Gaye (44.98), the Trinidadian pair of Lalonde Gordon (45.02) and Machel Cedenio (45.77) along with Cayman Islands' Jamal Walton (45.05) were the others to move on to the semi-finals.
O'Dayne Richards of Jamaica (19.95m) failed to advance in the men's shot put.
In the women's triple jump, Jamaicans Kimberly Williams (14.14m) and Shanieka Ricketts (14.21m) advanced to the women's triple jump final on Monday.
Williams, who is in her fifth World Championships, said: "It (first round) was alright. No objections. I was here to qualify. It was not too cold today."
She added: "I am always ready for the final. I have to be thankful for the season for staying healthy-ish. The crowd was awesome. From London 2012, I knew the morning session was going to be packed."
Around the Web