After placing second on Saturday in the National Park, Jamal John took his talents to the roadways of West Demerara yesterday and sprinted off with the spoils of the 14th Reagan Rodrigues Memorial 50-mile event. The Team Coco's wheelsman turned the tables on Raul Leal who won Saturday's event while their breakaway mate, Kemuel Moses joined the duo on the podium yesterday.
Brighton John finished fourth. Chris Griffith and Shaquel Agard filled out the top six rewarding positions.
Besides the winner's trophy, John bagged three of the eight sprint prizes along the trek which he completed in a brisk one hour, 56 minutes and 48.
Jornell Yearwood pocketed two sprint prizes, while Leal, Agard and Griffith snared one apiece.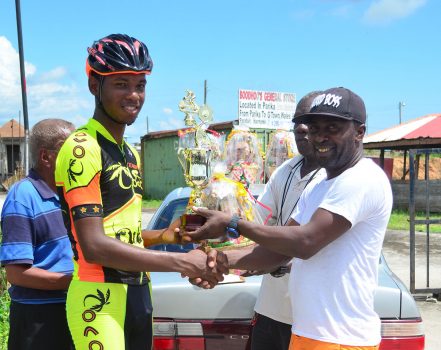 The race, which rolled off at Wales, proceeded to Bushy Park and returned to Schoonord for the finish was over at Vreed-en-Hoop on the upward journey.
The podium finishers attacked and the peloton failed to promptly respond giving the trio enough time to create enough separation with every powerful turn of their pedals.
John, Leal and Moses then rode in tandem to maintain their lead despite a series of attacks by several disorganized chase packs.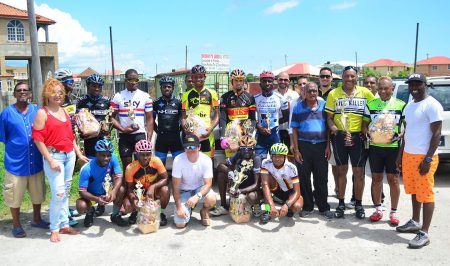 With the finish line in sight however, John's breakaway mates allowed the tireless biker to create separation and reward him with the well-deserved victory.
Honourable mention goes to yesterday's category winners Brighton John (junior), Ian Jackson (veteran), Talim Shaw (Mountain Bike) and USA based, Randolph Toussaint (over 60).
Following the event, members of the late Rodrigues' family, along with staff members of Ricks and Sari Agro Industries assisted in the presentation of prizes and food hampers.
Note: The race is held in memory of Rodrigues, the founder of the Carlton Wheelers club and former president of the Guyana Cycling Federation. (Emmerson Campbell)
Around the Web