LONDON, CMC – Olympic champion Omar McLeod handed Jamaica a perfect birthday gift by winning the men's 110m hurdles at the 16th IAAF World Championships here last night.
The 23-year-old put together an almost perfect race, executing cleanly for most part to cross the line in 13.04 seconds and walk away with his first world title. Jamaica on Monday celebrated its 55th year of independence.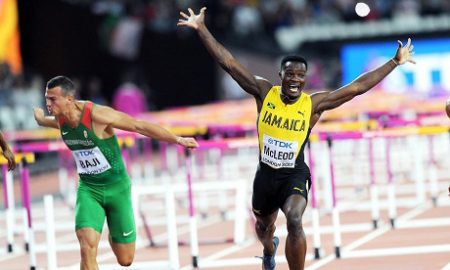 Sergey Shubenkov, who was the first out of the blocks, took the silver medal in 13.14 and Balazs Baji of Hungary the bronze in 13.28.
Barbadian Shane Braithwaite finished sixth in 13.32 while Jamaica's Hansle Parchment was eighth in 13.37.
"This one is special, honestly," McLeod said afterwards.
"There was a lot of pressure coming in but I channeled it positively. It's totally different to last year where we had Usain (Bolt) and Elaine (Thompson) winning, which I used to propel me.
"I didn't have that this time so I really wanted to come out and shine my own light."
Running out of lane four, McLeod was away quickly to take the lead but was chased down in lane two by Shubenkov. However, the defending World champion failed to close the gap.
McLeod's success took some of the disappointment off the weekend for Jamaica when both Bolt and Thompson suffered shock defeats in the respective 100 metres finals.
In the women's triple jump final, both Jamaicans Shanieka Ricketts and Kimberly Williams missed out on the podium.
Ricketts measured 14.13 metres for eighth spot while Williams, who is at her fifth World Championships, could only manage 14.01m for 10th.
Meanwhile, four Caribbean women will contest Wednesday's 400m final after Olympic champion Shaunae Miller-Uibo of the Bahamas easily won her semi-final in 50.36.
Jamaica's Stephenie-Ann McPherson, who was second to Miller-Uibo also made progress with 50.56, along with Novlene Williams-Mills (50.67) and Shericka Jackson (50.70) who qualified as the two fastest losers. Fellow Jamaican Chrisann Gordon failed with 50.87.
In the men's 200m first round, Trinidad and Tobago's Jereem Richards recorded the day's fastest time of 20.05 seconds and along with Jamaica's Yohan Blake (20.39) were four from the region to reach the next round.
Kyle Greaux also of Trinidad and Tobago clocked 20.48 and Jamaica's Rasheed Dwyer, 20.49, to also progress.