LONDON, CMC – Bahamian Steven Gardiner won silver in the men's 400m to hand the Caribbean its only medal on day five of the IAAF World Championships here Tuesday.
The 21-year-old was well positioned coming off the final curve slightly behind eventually winner Wayde Van Niekerk of South Africa, but could not change to overdrive and crossed the line second in 44.41 seconds.
Van Niekerk, the reigning Olympic champion and world record holder, dominated to win in 43.98.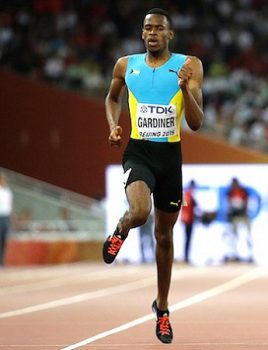 Abdalelah Haroun of Qatar, who was way back in the homestretch, found the extra gear needed to take him to third place in a season-best 44.48.
"It is amazing to win the world title. It is a blessing," said van Niekerk, who is also in the advanced rounds of the 200 metres.
"I hope the fans enjoyed that. I'm used to the lactic [acid in legs] but I need a few minutes to recover from that effort and I'll be fine.
"I've got a good team who will help me recover well for the 200m and I'm looking forward to that."
There was disappointment for the Jamaican pair of Nathon Allen (44.88) and Demish Gayle (45.04) who finished fifth and sixth respectively.
Van Niekerk dominated the first 300 metres with Gardiner chasing from lane four and Allen also challenging, with Botswana's Baboloki Thebe threatening in lane seven.
However, van Niekerk streaked away from the field and Gardiner also pulled away from Allen to secure the runners up position.
In the women's 400 metres hurdles, Jamaica's Ristananna Tracey again looked good throughout the rounds, and easily secured her spot in the final.
She hurdled cleanly and led from start to finish to take the top spot in semi-final two in 54.79 seconds.
"I think I'm stronger than the other girls out there but they are faster than I am," Tracey said.
"My coach said I needed to come out here and control the first 100m of the race, then I will finish stronger no matter what, so I did just that."
Jamaica and the Bahamas will have three athletes each in the women's 200m semi-finals, set for tomorrow evening.
Again, Olympic champion Shaunae Miller-Uibo, who is chasing the 200-400 double, led with 22.69 seconds. She was off the curve smoothly and executed down the homestretch to finish ahead of Jamaica's Simone Facey in 22.98, in heat four.
Another Bahamian Tynia Gaither held her own against Dafne Schippers, finishing second in 22.98 as the Dutch star won in 22.63.
Jamaica's Jodean Williams, in her first race at this level, finished fifth but qualified as one of the fastest losers with 23.38.
Sashalee Forbes, Jamaica's third entry, took third in heat three and made progress with 23.26 while Anthonique Strachan, the third Bahamian, also finished third in heat six in 23.23.
Trinidad and Tobago's Semoy Hackett was the seventh Caribbean athlete to advance with 23.50.
In the field, Danniel Thomas-Dodd made it to the women's shot put final with a throw of 18.42 metres.
Gleneve Grange, the other Jamaican, failed with 15.96m.
Comments

DHAKA, Bangladesh, CMC – Superstar Chris Gayle crunched a world record 18 sixes and passed 11 000 runs in Twenty20s, as he struck his second hundred in three innings to fire Rangpur Riders to a convincing 57-run win over Dhaka Dynamites and to the capture of the 2017 Bangladesh Premier League title.

HAMILTON, New Zealand, CMC – West Indies suffered a 2-0 clean sweep here yesterday after New Zealand needed just two sessions to wreck the remainder of the Caribbean side's innings and inflict a punishing 240-run defeat in the second Test at Seddon Park.

Two-time defending champions Sparta Boss secured a dream final with arch-rival Gold is Money in the Guinness 'Greatest of the Streets' Georgetown zone, edging Leopold Street 1-0 on penalty kicks yesterday in their rescheduled semi-final fixture.

Camptown Football Club was yesterday presented with their prize monies and the championship trophy for winning the inaugural Turbo Energy Drink Knockout Football Championship at a simple presentation ceremony held at the Guyana Beverage Incorporated Headquarters, Diamond.
Ravens edged Half Mile Bulls, while Kobras bit Pacesetters, when the Guyana Amateur Basketball Federation (GABF) 'Road to Mecca' Club Championship continued on Sunday.