Junior table tennis sensation Kaysan Ninvalle who captured the 2016 Caribbean boys under-11 singles title at is confident of winning another title at this year's pre and mini-cadet tournament in Jamaica.
"I feel great. I feel confident and I think that I can win this year again," Ninvalle told Stabroek Sports after one of his training sessions at the National Gymnasium.
"All I have to do is keep on training and working hard because we [Guyana team] will have some tough competition this time around from the Dominican Republic and Puerto Rico but once we play our game, play well and back up each other, then we can win it," the youngster added.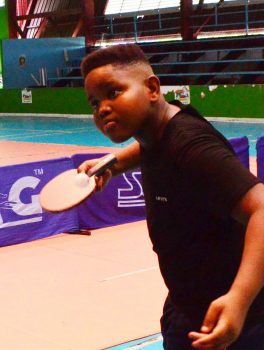 When asked what makes him so confident of winning, the 12-year-old Chase Academy student revealed that his coach Linden Johnson is a major factor in that regard.
"Well for me, because I'm coached by Linden Johnson, that pushes me more. When he coaches me I don't fear anyone and most likely I'll get home," Ninvalle revealed.
Ninvalle, who will be competing in the under-13 category in this year's  tournament, has been training every day except Sundays in an effort to fine-tune his preparation for the August 21-27 challenge in Jamaica.
His main focus he openly highlighted, is sharpening his footwork ahead of his opening game while also utilizing Youtube to add a few tricks under his belt.
Meanwhile, coach Johnson, commenting on his Ninvalle's chances, said that he too feels that the player who possesses the necessary pedigree and work ethic, can add another Caribbean title to his resume.
"Yeah, I think it's possible you know. It's been a good year for him and he has been working hard to accomplish it but he has to be much more disciplined when playing this time around," Johnson added in his assessment of the player.  Johnson, who has been coaching the lad for nearly five years now, commenting on what makes the player so noticeable proficient than others around his age range, said: "He's much more talented and he is a stronger player. Kaysan [Ninvalle] is actually one of the oldest table tennis players in terms of experience because he started playing the sport from age four years old and has grown up in a good table tennis environment." The duo along with the other on the squad will continue their daily preparation for championships in an effort to continue Guyana's impressive showing at the regional level.
Around the Web