PORT OF SPAIN, Trinidad, CMC – Pakistani Shadab Khan grabbed Man-of-the-Match honours for the second straight game as Trinbago Knight Riders beat St Lucia Stars for the second time in four days in the Caribbean Premier League here Monday night.
Chasing 119 for victory at Queen's Park Oval, TKR recovered from a dire position of 75 for six in the 10th over to reach their target in the 16th, and register a comfortable four-wicket win in the end.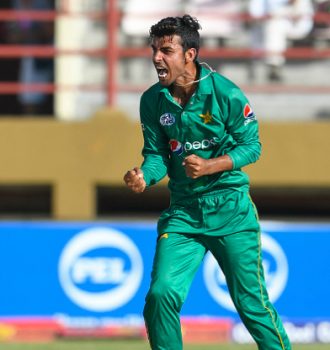 Shadab emerged as the unlikely batting hero, stroking an unbeaten 30 off 33 balls with a four and a six in an unbroken seventh-wicket stand of 45 with Barbadian Javon Searles who finished on 27 not out off 21 deliveries with two fours and two sixes.
Former West Indies off-spinner Shane Shillingford had wrecked the top order to end with four for 24 from four overs, leaving the Stars with a chance to win their first game.
TKR were 33 for one in the third over after losing Sunil Narine cheaply for 11 in the second over but Shillingford's introduction rocked the innings as four wickets tumbled for 19 runs in the space of 21 deliveries.
However, Shadab showed his worth with the bat in defying the Stars attack while Scantlebury flexed his muscle to lash two sixes and a four off the 16th over to end the game swiftly.
Earlier, opener Andre Fletcher struck a top score of 40 while captain Darren Sammy chipped in with 25, as Stars mustered a paltry 118 for nine off their 20 overs after being sent in.
Kevon Cooper claimed three for 21 and captain and fellow medium pacer Dwayne Bravo, two for 33 but Shadab once again played a key role, producing a stingy spell one of one for 16 from his four overs.
Johnson Charles (5) was plumb lbw to left-arm spinner Khary Pierre in the third over with 10 runs on the board but Fletcher anchored two successive stands – 35 for the second wicket with  Pakistan's Kamran Akmal (17) and 30 for the third with Marlon Samuels (9) to push Stars up to 75 for two.
But once Samuels was beaten and bowled by a Narine off-break in the 13th over, the innings declined swiftly with seven wickets falling for 41 runs.
Fletcher perished in the 16th over after striking three fours and a six in slow 45-ball knock while Sammy produced a cameo, belting two fours and a six off 19 balls, before falling in the final over.
TKR had crushed Stars by nine wickets in the tournament opener last Friday in Gros Islet.
SCOREBOARD
St Lucia Stars
J Charles lbw b Pierre                                              5
A Fletcher c Beaton b Shadab Khan                        40
+Kamran Akmal c wkp Ramdin b Cooper               17
M Samuels b Narine                                                9
J Ryder b Cooper                                                     2
*D Sammy c Pierre b DJ Bravo                               25
K Mayers b DJ Bravo                                               7
M McClenaghan run out                                         0
J Taylor b Cooper                                                    1
S Shillingford not out                                              0
E Leie not out                                                          2
Extras (b4, lb2, nb1, w3)                                     10
TOTAL (9 wkts, 20 overs)                                  118
Fall of wickets: 1-10, 2-45, 3-75, 4-79, 5-81, 6-94, 7-96, 8-106, 9-116.
Bowling: Pierre 4-1-15-1, Beaton 1-0-10-0, Shadab Khan 4-0-16-1, Narine 4-0-17-1, Cooper 4-0-21-3, DJ Bravo 3-0-33-2.
TKR
B McCullum c Ryder b Shillingford                        19
S Narine c Leie b Mayers                                       11
C Munro lbw b Shillingford                                     1
+D Ramdin b Shillingford                                     13
DM Bravo b Shillingford                                         1
*DJ Bravo b McClenaghan                                      6
Shadab Khan not out                                             30
J Searles not out                                                    27
Extras (lb6, nb2, w4)                                           12
TOTAL (6 wkts, 15.4 overs)                               120
Did not bat: K Cooper, R Beaton, K Pierre.
Fall of wickets: 1-12, 2-33, 3-34, 4-43, 5-52, 6-75.
Bowling: Taylor 3-0-21-0, Mayers 1-0-10-1, Shillingford 4-1-22-4, Samuels 1-0-8-0, Leie 3-0-22-0, McClenaghan 2.4-0-21-1, Fletcher 1-0-10-0.
Result: TKR won by four wickets.
Man-of-the-Match: Shadab Khan.
Toss: TKR.
Umpires: G Brathwaite, N Duguid; TV – L Rusere.
Around the Web