TORONTO, Canada – SVC Mafia and New York Hustlers emerged winners of Sunday's Toronto Cup 2 Open and Masters tournaments respectively which ended at the University of Toronto ground.
In an all New York Open affair, SVCA Mafia defeated NYSCL All Stars by five wickets in an all New York affair before a bumper Caribana holiday weekend crowd at the picturesque venue, situated in Scarborough.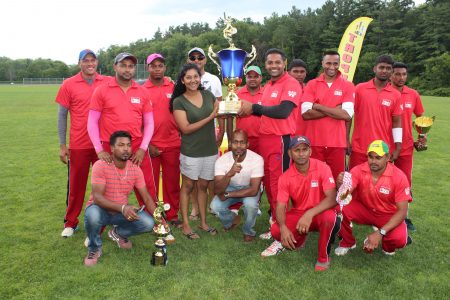 Batting first, NYSCL were bundled out for a paltry 84 in 19.3 overs with only three players reaching double figures, Jumadeen (15), Nigel Greaves (15) and former Guyana player Damador Daesrath (11).
NYSCL started disastrously, losing both openers in the first over, Amar Singh (0) going via the run out route and Vickey Subkaran (one) caught off the bowling of Sewchand Budhu. They never fully recovered as Anil Beharry (two for eight), Azad Azeez (two for eight) and Budhu (two for 12) restricted them to 84. SVC Mafia, needing to score just over four runs per over, batted cautiously to secure an easy win with four overs to spare, losing five wickets in the process. Rooplall Singh (18), Sarfraz Esau (15) and Budhu (14 not out) were the top scorers.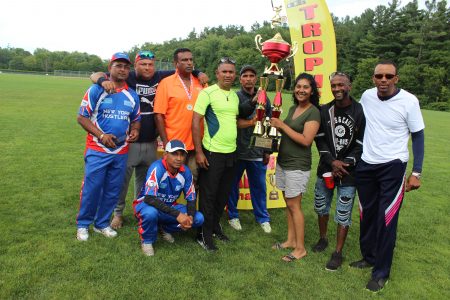 In the day's opening encounter, New York Hustlers humbled Ontario Masters Softball Interna-tional (OMSI) before their home fans as the visitors romped to an emphatic nine-wicket victory on the back of brilliant batting and bowling from their players. OMSI were coming off a huge win over pre tournament favourites Guyana Floodlights Soft-ball Cricket Associa-tion (GFSCA) in Saturday's semi-final and were highly favoured to win.
Set 99 for victory, after dismissing OMSI for 98 in 19 overs, New York Hustlers galloped to 100 for one in a mere 14 overs with former Guyana Under-19 player Troy Gobin (35 not out) and former Canadian player Desmond Cholmondely (40 not out) sharing an enterprising second wicket partnership of 75 after captain and former Guyana Under-19 player Shameer Sadloo (five) was dismissed in the sixth over with the score on 25.
Earlier, Satrohan "Blade" Balkarran was almost unplayable as he ended with the excellent figures of two for three from his four overs, his victims being skipper Shiv Seeram and Sunil Dhaniram (0).
OMSI never recovered from this setback as wickets fell at regular intervals. Jess Parasnauth (29) and Terry Mathura (eight) rescued the innings somewhat with  a 37-run sixth wicket partnership but once they were dismissed in quick succession of each other there were no further resistance as Euastace Dodson ran though the tail.
Dodson ended with the impressive figures of four for 10 from two overs. At the presentation ceremony which followed, the victorious team in the Masters category received $2500 (US) and the winner's trophy while they were also in receipt of an additional $500, compliments of Canadian-based Guyanese Surendra Persaud. Runners-up OMSI collected $300 (US) and trophy.
The Open category saw SVC Mafia receiving $2000(US) and a trophy while the runners-up got $200 and a trophy. Beharry was named man-of-the-match for his impressive bowling in the Open final while Budhu gained the Most Valuable Player award for his nine wickets and scoring 84 runs from four games.
Dodson copped the man-of-the-match in the Masters division while Balkarran's sterling bowling efforts, which saw him bag 10 wickets for 37 runs in five matches, earned him the MVP award.
Shiv Seeram, the only player to score a century in the tournament, was awarded for his magnificent undefeated 114.
All the trophies and medals were sponsored by Trophy Stall (Guyana) and Toronto and on hand to assist with the presentation were proprietor Ramesh Sunich and daughter Emma.
Around the Web