LONDON, CMC – Caribbean athletes endured a disastrous day at the IAAF World Championships here yesterday, as Olympic champion Shaunae Miller-Uibo suffered a dramatic defeat in the women's 400 metres final and all but one of the region's men failed to make it to the final of the 200 metes.
On a rain-drenched night at the Olympic Stadium, Bahamian Miller-Uibo appeared to pull her right hamstring as she streaked to victory. She then lost control with 15 metres to go and could only finish fourth in 50.49 seconds.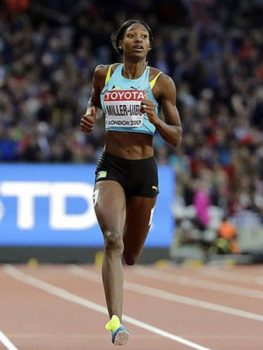 Her demise was to American Phyllis Francis's advantage as she took victory in a personal best 49.92 seconds, ahead of Bahrain's Salwa Eid Naser in 50.06, with American star Allyson Felix third in 50.08.
The 23-year-old Miller-Uibo, the heavy favourite entering the contest, dominated the early phase of the race. Running out of lane seven, she stormed down the backstretch, ran a superb curve before coming into the stretch five metres in front.
She seemed to have the race sewn up when she suddenly pulled up, stumbled before dragging herself across the line.
The Jamaican trio of Shericka Jackson (50.76), Stephenie Ann McPherson (50.86) and Novlene Williams-Mills (51.48) were fifth, sixth and eighth respectively. Despite the disappointment, Jackson said she had given the race her all.
"I went in as the fastest loser. I came fifth today," she said. "I wanted to come better than that but I worked for fifth therefore there is nothing else I could have done."
Williams-Mills added: "I didn't go as planned but I the end of the day, there is nothing I can do."
Meanwhile, for the first time in six championships, Jamaica will be without a men's 200m finalist after their main hope Yohan Blake crashed out at the semi-final stage.
He finished third in semi-final two in 20.54 while fellow Jamaican Rasheed Dwyer clocked 20.69 in finishing last in the first semi-final.
"I should have won that race easily but my leg wouldn't allowed me to," Blake lamented. "I felt my leg was grabbing and I couldn't do anything about it.
The region's hopes now rest with Trinidad and Tobago's Jereem Richards, who looked to be in very good shape in winning the second semi in 20.14 seconds.
"I am really confident going into the final," Richards said of the race set for Thursday night.
"I came into the Championships with everything to gain and nothing to lose. I have no pressure on me now so I am just going out there to execute the way I should."
Trinidadian Kyle Greaux (20.65) and Guyana's Winston George (20.74) both also missed out on the final.
Jamaica narrowly missed medals in the men's 400m hurdles and women's shot put. Kemar Mowatt, who was way off the pace entering the homestretch, fought gallantly to finish fourth in 48.99 as Norway's Karsten Warholm of Norway took gold in 48.35, ahead of Turkish athlete Yasmani Copello in 48.49.
Trinidad and Tobago-born American Kerron Clement finished third in 48.52.
Mowatt, who was representing Jamaica for the first time, said: "It's a great feeling but I would have hoped to do better, but I can't complain."
In the women's shot put, Danniel Thomas-Dodd could only muster fourth in 18.91 as Likiao Gong of China topped the event with 19.94m.
Thomas-Dodd said she was still happy with the end result.
"I am happy because I just went out there to have fun … and that's what I did, and I came out with the results I wanted. I wanted to make the top eight and that's what I did.
Around the Web