DERBY, England,  CMC – Captain Jason Holder says West Indies will be looking to sustain their intensity as they head into the final three-day tour game against Derbyshire here Friday, ahead of next week's start of the 'pink ball' opening Test against England. The Caribbean side have turned in decent performances to draw both tour games so far – against Essex and Kent – and Holder said it was important they kept their focus over the next few days especially with the contest key to their preparation for the upcoming Test.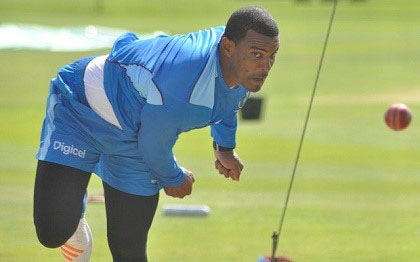 Significantly, the game will be a day/night affair bowling off at 2 pm (9 am Eastern Caribbean time) and will be a crucial warm-up to the inaugural 'pink ball' Test at Edgbaston.
"We've had two games before. I thought the first game was really good against Essex. We probably slackened off in the last game against Kent but I still think it was pretty good preparation," the all-rounder said here Thursday.
"Batsmen got to spend some time in the middle, bowlers got the chance to get a good run out. Going into this last game before the Test series starts, it's important that we get accustomed to the pink ball here in England, see what it does, see what it doesn't do and try and formulate some plans going into the first Test."
West Indies have already played a 'pink ball' Test – against Pakistan in the United Arab Emirates last year – and will have some experience going into the game.
However, Holder pointed out the pink ball usually behaved differently in various conditions and it was therefore important to get a sense of what the ball would do the English pitches and in the unpredictable weather. "I've got to see how it goes; you never know with the pink ball," Holder pointed out.
"We've had the opportunity to play a few games with the pink ball, both in first class cricket and we've obviously played a Test match in Dubai but it varies depending on where you're playing so I think it's just a situation for us to go out and see what happens, especially when the day transitions into night."
Several West Indies batsmen have been among the runs over the two tour games with the likes of Roston Chase, Jermaine Blackwood, Kraigg Brathwaite and Shai Hope all getting half-centuries.
The fast bowling unit have also impressed with experienced seamer Kemar Roach grabbing a five-wicket haul against Essex and 20-year-old Alzarri Joseph picking up four wickets against Kent in an excellent outing.
And with speedster Shannon Gabriel expected to get his first taste of action against Derbyshire, Holder said he was already pleased with how his pacers had performed so far.
"Alzarri looked good in the last game. It's good to see a youngster coming in and doing well in his first time here in England," Holder noted.
"Shannon has obviously played here [in England before] so he'll be raring to go. I think in the last Test series which he played here he pulled up so I'm sure he'll be looking to finish off this series and get through this series quite nicely for us."
Around the Web