LONDON,(Reuters) – Double Olympic champion Christian Taylor continued his dominance of the triple jump when he won his third world title on Thursday, once again beating fellow American Will Claye into second place.
Taylor leapt 17.68 metres with his third attempt to win by five centimetres, clinching the title when Claye was given a red flag on his last attempt. Portugal's Nelson Evora, Olympic champion in 2008, took bronze with 17.19.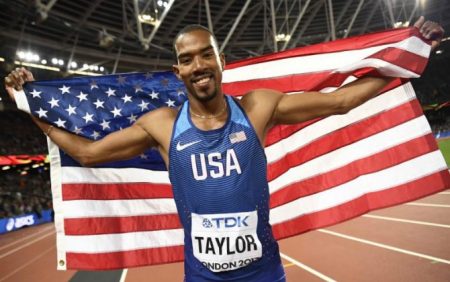 The 27-year-old Taylor became the first triple jumper to win three world crowns, having also claimed victory in Daegu in 2011 and Beijing two years ago. He also took gold at the 2012 and 2016 Olympics with Claye finishing second on both occasions.
But he had made it clear beforehand that his ambition was to break Jonathan Edwards's long-standing record of 18.29 metres, set in 1995.
"I have this watch from my sponsor with 18.30 on it," Taylor said. "I will try to fight, I will get this number. The record is still on. I am still motivated to break that record.
"My motivation is to be the best athlete. This was not the night, I am a little disappointed. But the season is not yet over."
Edwards said beforehand that he thought his world mark could be under threat. In the event, the contest turned into something of an anti-climax with both producing their best jumps in the third round.
Around the Web