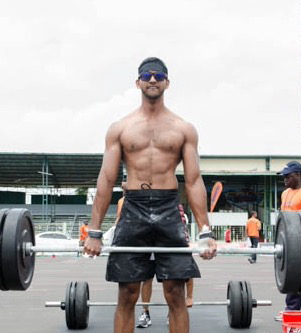 The second annual Crossfit 12-12-12 Throwdown is set to take place tomorrow at the Woodbrook Youth Facility in Port of Spain, Trinidad.
At last year's Throwdown Guyana fielded eight athletes, of which Guyana's fittest man, Dillon Mahadeo placed third in the Rx(Open) Men's category and Angelina De Abreu was first in the Women's Scaled (Novice) category.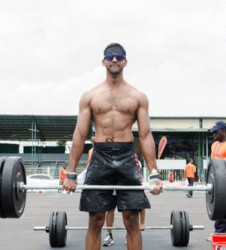 This year Guyana will be represented by 10 athletes: Dillon Mahadeo, Christian McRae, Ian Rogers, Timothy McAndrew, Jamie McDonald, King Solomon, Stephen Fraser, Paul Muesa, Semonica Duke and Christina Rahman.
There will be a total of 94 athletes from St Lucia, St Maarten, Barbados, Suriname, Trinidad, Guyana and the United States of America (USA) at this year's event. From powerlifters, bodybuilders, track and field athletes, to persons who serve in the disciplined forces, these athletes from various backgrounds of fitness will have one thing in mind, winning. Winning will ensure a place among the Caribbean's fitness elite for whoever emerges victorious after the gruelling series of events. The organizers have scheduled Rx, Scaled & Masters Divisions for Males and Females, and there are guaranteed prizes for the top three finishers in each category.
Comments

A resurgent Guyana Amazon Warriors side completed a comprehensive seven wickets victory over the out-of-sorts St Lucia Stars to cruise to their second consecutive home win in the Caribbean Premier League (CPL) at the Guyana National Stadium, Providence, last evening.

BARCELONA,  (Reuters) – Barcelona are suing Neymar for 8.5 million euros ($10.00 million) for breach of contract as they want him to return the bonus he was paid when he signed a new five-year deal just nine months before joining Paris St Germain, the Spanish club said yesterday.
(Reuters) – Cristiano Ronaldo will have to serve his five-match ban for pushing a referee after the Spanish sports court (TAD) rejected Real Madrid's appeal against the length of the suspension, Spanish media reported yesterday citing court officials.

A 90th+3 minute strike secured Western Tigers a 1-1 draw with Georgetown Football Club (GFC), when the Corona Beer Invitational Football Championship continued on Monday at the GFC ground, Bourda.

Despite concluding the CONCACAF u15 Boys Championship with only one victory from four matches, Guyana Football Federation (GFF) President Wayne Forde said, he is delighted with the team's overall performance.