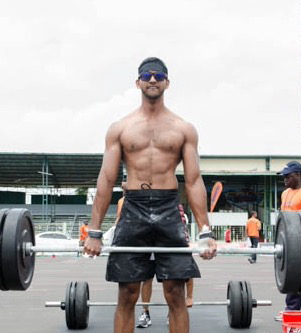 The second annual Crossfit 12-12-12 Throwdown is set to take place tomorrow at the Woodbrook Youth Facility in Port of Spain, Trinidad.
At last year's Throwdown Guyana fielded eight athletes, of which Guyana's fittest man, Dillon Mahadeo placed third in the Rx(Open) Men's category and Angelina De Abreu was first in the Women's Scaled (Novice) category.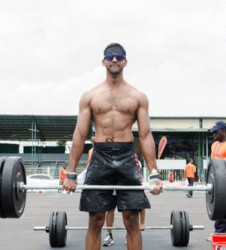 This year Guyana will be represented by 10 athletes: Dillon Mahadeo, Christian McRae, Ian Rogers, Timothy McAndrew, Jamie McDonald, King Solomon, Stephen Fraser, Paul Muesa, Semonica Duke and Christina Rahman.
There will be a total of 94 athletes from St Lucia, St Maarten, Barbados, Suriname, Trinidad, Guyana and the United States of America (USA) at this year's event. From powerlifters, bodybuilders, track and field athletes, to persons who serve in the disciplined forces, these athletes from various backgrounds of fitness will have one thing in mind, winning. Winning will ensure a place among the Caribbean's fitness elite for whoever emerges victorious after the gruelling series of events. The organizers have scheduled Rx, Scaled & Masters Divisions for Males and Females, and there are guaranteed prizes for the top three finishers in each category.
Comments

ST JOHN'S, Antigua,  CMC – Windward Islands Volcanoes held their nerve to beat defending champions Barbados Pride by three wickets in a dramatic Regional Super50 final here late yesterday and lift the domestic 50-overs title for the first time in five years.

Deputy Director of Sport Melissa Dow-Richardson has urged the Regional team to defend their home court and title at the upcoming Women's T20 World Cup which will be held in the Region in November this year.

Malachi Moore and Jasmine Billingy served their way to the boys and girls' under nine titles in the inaugural Banks Malta Supreme table tennis tournament at the Queen's College Auditorium, yesterday.

Like a good neighbour, Banks DIH Limited is there. It was disclosed recently that the local conglomerate has signed on to be a main sponsor of the Triple Crown Series.

The Guyana Football Federation (GFF) in partnership with the Guyana Beverage Incorporated (GBI) yesterday launched the GFF/Kool Kidz Grassroots Programme at the former's Section-K Campbellville headquarters.