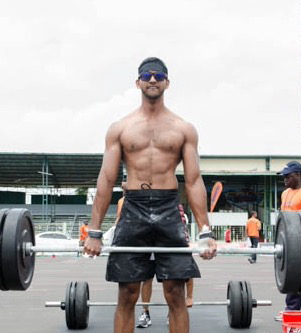 The second annual Crossfit 12-12-12 Throwdown is set to take place tomorrow at the Woodbrook Youth Facility in Port of Spain, Trinidad.
At last year's Throwdown Guyana fielded eight athletes, of which Guyana's fittest man, Dillon Mahadeo placed third in the Rx(Open) Men's category and Angelina De Abreu was first in the Women's Scaled (Novice) category.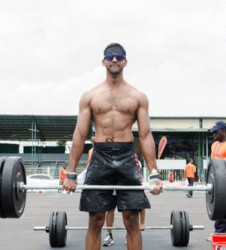 This year Guyana will be represented by 10 athletes: Dillon Mahadeo, Christian McRae, Ian Rogers, Timothy McAndrew, Jamie McDonald, King Solomon, Stephen Fraser, Paul Muesa, Semonica Duke and Christina Rahman.
There will be a total of 94 athletes from St Lucia, St Maarten, Barbados, Suriname, Trinidad, Guyana and the United States of America (USA) at this year's event. From powerlifters, bodybuilders, track and field athletes, to persons who serve in the disciplined forces, these athletes from various backgrounds of fitness will have one thing in mind, winning. Winning will ensure a place among the Caribbean's fitness elite for whoever emerges victorious after the gruelling series of events. The organizers have scheduled Rx, Scaled & Masters Divisions for Males and Females, and there are guaranteed prizes for the top three finishers in each category.
Comments

Floodlight Masters Sunday warmed up for the upcoming seventh annual Guyana Softball Cup tournament by winning Sunday's four-team Jai Hind Cricket Club fund-raising softball tournament in Berbice.

BULAWAYO, Zimbabwe, CMC – Kieran Powell and Kyle Hope got into gear with half-centuries, as West Indies had to settle for a draw with Zimbabwe "A" in their three-day, tour match yesterday.

It was a disappointing day for team Guyana as the 2017 Indoor Pan American Cup continued yesterday at the Cliff Anderson Sports Hall (CASH).

Gold is Money will oppose Future Stars in the inaugural Street Vibes Entertainment Futsal Championship grand finale today following semi-final wins over Sparta Boss and Back Circle respectively on Monday.

Santos hammered Northern Rangers 3-0, when the Georgetown Football Association (GFA), 2017/2018 Premier League continued on Monday at the Georgetown Football Club (GFC) ground, Bourda.