A dogged defensive display earned Barbados a 0-0 draw with Caribbean heavyweight Cuba, when the CONCACAF Girls U17 Football Qualifying Championship continued yesterday at the National Track and Field Centre, Leonora.
Gabriella Lopez, assistant coach of Barbados, during the post-match press conference said, "We didn't get the win but I am fairly happy with the result. We were under pressure for most of the game but the girls fought hard."
Meanwhile Cuba coach Lazaro Alfonso via a translator, said, "It was a good game but the principal of the game is to score goals and we didn't. We dominated the game, had opportunities but unfortunately we didn't score."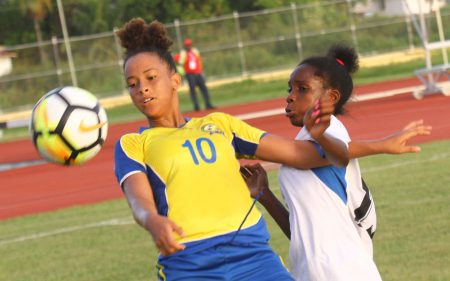 According to Alfonso, "The team was consistent and superior but goals win games. All the team knows is to win and win and with that, we are going to win against Guyana."
It was an Italian-like rearguard performance from the Barbadians, who literally defended for the entirety of the contest against the relentless attacking pressure of the Spanish speaking nation.
Although the scoreline failed to illustrate the gulf in quality between the teams, such was the dominance of the Cubans that the Barbadians failed to record an attempt on goal during the entire 90 minutes.
Barbados goalkeeper Shontee Broomes was efficient in the first half, recording seven saves, as Cuba camped out in the defensive end of the girls from the 'Nation of the Flying Fish'.
Poor finishing aided the Barbadian backline, as the trident of Analia Espinosa, Ellianne Sarmiento and Cecil Aldana Tamayo spurned several opportunities, striking tame shots directly at the custodian from inside the box.
The offensive pressure from the Cubans increased in the second period, with the Barbadians dropping further back in their defensive third to absorb the pressure.  A perfect but controversial opportunity was then presented to Cuba in the 65th minute, as the Melanys Echenique was adjudged to have been brought down in the left side of the box, much to the protests of the Barbadians.
However, Sarmiento failed from the spot, curling a right foot effort onto the crossbar, much to the disbelief of the large Cuban fan base which had descended on the venue.
Cuba almost snatched the win in the 87th minute, as captain Amanda Dominguez raced onto a through pass inside the centre of the box, only to see her right foot effort denied by the advancing Broomes, who threw her body into the path of the impending danger.
Group-D action in the tournament will conclude tomorrow at the same venue with the hosts tackling the strong Cuba side.
Around the Web