LONDON, (Reuters) – Mo Farah's aura of invincibility after six years of unrelenting success was finally cracked in his very last major track race on Saturday as he lost his world 5,000 metres title to Ethiopia's Muktar Edris.
Seeking a fitting end to his matchless long-distance racing career before moving to marathon running, the 34-year-old Briton's bid for a fifth straight global 10,000/5,000m double was scuppered as he had to settle for the silver.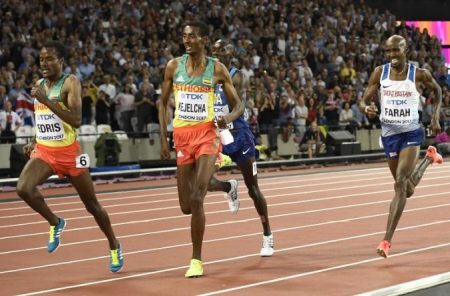 Yet even in defeat, Farah demonstrated his champion's spirit as he fought back in the dying metres when it looked as if he would be shut out of the medals completely.
In a thrilling finale featuring four athletes careering towards the line, Farah snatched back second place behind Edris, who clocked 13 minutes 32.79 seconds after a searing final lap of 52.6 seconds.
"I gave it all but I had nothing left at the end," a crestfallen and emotional Farah said.
It was a glorious win for 23-year-old Ethiopian Edris, the fastest man in the world this year, who had lost all his five previous meetings with Farah.
Behind Edris, Farah dug deep to battle back from fourth to second when space opened up on the inside over the last few metres to take silver in 13:33.22.
It was a poignant sight after so many Farah celebrations down the years to see him lying on his back, exhausted and forlorn with his arm draped across his face, but his rivals were not about to let the moment pass without celebrating him
Edris hauled Farah to his feet as his other rivals all wanted to give him a hug of consolation.
It was the great man's first defeat in a major championship race since the 2011 world 10,000 metres final when he also won silver – and, once again, it took dazzling speed to beat him over the last lap.
Around the Web