ESPN, Future Stars, and Lot-20 secured their respective quarterfinal berths, when the 3rd Annual Xtra Beer 'Ballers in the Summer' Street Football Championship group stage commenced, on Friday at the Pouderoyen Tarmac.
Future Stars secured hard-fought wins over Tigerbay and Samaroo Dam, respectively. The youthful Georgetown unit defeated Samaroo Dam 3-2 on penalty kicks after regulation time ended 0-0 in their first match.
They then defeated Tigerbay 1-0 through a Jamal Cozier effort in the fourth minute. Similarly, Lot-20 downed Back Circle 1-0. An own goal in the fifth minute settled the outcome.
Lot-20 returned in the second round to defeat Tucville 3-2 on penalty kicks, following a scoreless regulation time period.
On the other hand, relative newcomer ESPN edged Hustlers 1-0 through a Kevon Lythcott strike in the sixth minute, before downing Dave and Celina's All-stars 2-1 on sudden death penalty kicks in their second fixture. The score prior to the penalty shoot-out was 0-0.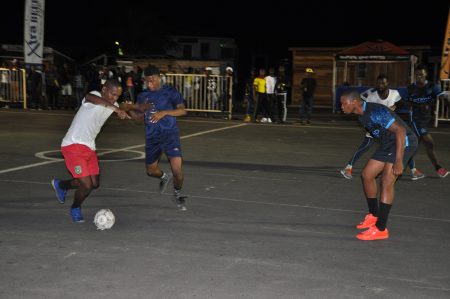 In other results, Showstoppers downed Tajoe's Admiral United 1-0. Marvin Josiah scored in the 11th minute. Dave and Celina's All-Stars dismissed Bagotstown Warriors 2-0.
Kenard Simon and Joel McKinnon scored in the fourth and 12th minute apiece. Identically, Silver Bullets riddled Tucville 2-0 led by a Damion Williams brace in the 10th and 23rd minute.
Back Circle downed Silver Bullets 1-0 via a Jermaine Beckles strike in the ninth minute.
Bagotstown downed Hustlers 2-1 on penalty kicks, after normal time ended 0-0, while Tajoe's Admiral United squeaked past Agricola 2-0 on penalty kicks, following a scoreless regulation time interval.
Tigerbay edged Gully Side 1-0 on penalty kicks following a scoreless fixture, while Agricola needled Speed Boat 2-1. Collis Samuels netted in the third and 10th minute for the winner, while Amoniki Buntin scored in the seventh minute for the loser.
Complete List of Results
Game-1: Silver Bullets vs Tucville 2-0; Damion Williams-10th, 23rd
Game-2: Lot-20 vs Back Circle 1-0; Own Goal-5th
Game-3: Dave and Celina's All-Stars vs Bagotstown Warriors 2-0; Kenard Simon-4th,
Joel McKinnon-12th
Game-4: Tajoe's Admiral United vs Showstoppers 0-1; Marvin Josiah-11th
Game-5: Future Stars vs Samaroo Dam 0-0; F/Stars 3-2 on PKs
Game-6: Hustlers vs ESPN 0-1; Kevon Lythcott-6th
Game-7: Agricola vs Speed Boat 2-1; Agricola: Collis Samuels-3rd, 10th, Speed Boat Amoniki Buntin-7th
Game-8: Tigerbay vs Gully Side 0-0, Tigerbay 1-0, SDPKs
2nd Round
Game-1: Back Circle vs Silver Bullets 1-0; Jermaine Beckles-9th
Game-2:  Tucville vs Lot-20 0-0; Lot-20 won 3-2 on PKs
Game-3: ESPN vs Dave & Celina's All-Stars 0-0; ESPN 2-1 on SDPKs
Game-4: Future Stars-1 vs Tigerbay-0; Jamal Cozier-4th
Game-5: Bagotstown Warriors vs Hustlers 0-0; Warriors 2-1 on PKs
Game-6: Agricola vs Tajoe's Admiral Utd 0-0; Tajoe 2-0 on PKs
Comments

Wicketkeeper batsman Anthony Bramble narrowly missed out on converting his maiden first-class century into a double whilst propelling the Guyana Jaguars to 417 all out on day two in their day/night encounter against the Leeward Island Hurricanes at the Guyana National Stadium, Providence.  
Michael Alphonso, Demetrius DeAbreu and Mohryan Baksh were amongst the winners, when the Farfan and Mendes Junior Skill Level Squash Championship, continued on Thursday at the Georgetown Club Facility, Camp Street.

Will champion Sparta Boss secure an unprecedented 'three-peat' of titles, or will Gold is Money finally ascend to the throne, when the Guinness 'Greatest of the Streets' Georgetown Championship, concludes tonight at the Demerara Park Tarmac.
Guyana's four-member team of boxers have all progressed to the medal round of the Caribbean Development Boxing Tournament which concludes tonight in St Lucia.
The Guyana Football Federation (GFF) is set to stage its Extraordinary Congress today from 10:00am at the National Racquet Centre, Woolford Avenue.