LONDON,  (Reuters) – Usain Bolt's unparalleled career ended in extraordinary drama on Saturday as he pulled up with injury on the anchor leg of his very last race, the 4×100 metres relay final at the World Championships.
The 30-year-old had taken the baton for Jamaica a few metres adrift of the two leaders when, straining hard to catch them, he stopped abruptly with cramp in his left hamstring, began hobbling and tumbled to a halt after a forward roll.
As Britain went on to win gold, Bolt lay on his back in his lane, his head in hands, being tended to by medics as one waited with a wheelchair to help push him off the track.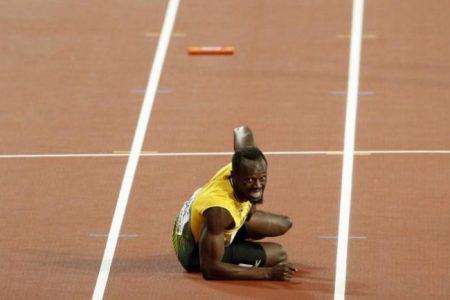 Yet the sport's greatest enteartainer was determined that one of the finest careers in sport was not going to end with him in a wheelchair. So the fastest man of all-time, surrounded by his three worried team mates, Omar McLeod, Julian Forte and Yohan Blake, rose gingerly to his feet and limped the last 30 metres to the line.
The official result recorded that the Jamaicans did not finish but Bolt had been absolutely determined to ensure he completed the last race after a matchless career in which he won 19 major championship gold medals.
Typically, Bolt's only thoughts were with the team mates he felt he had let down.
"He kept apologising to us but we told him there was no need to apologise," Forte said. "Injuries are part of the sport."
McLeod added: "It just happened – Usain Bolt's name will always live on."
Kevin Jones, the Jamaican team doctor, said Bolt had suffered cramp in his left hamstring.
"But a lot of pain is from disappointment from losing the race," he said. "The last three weeks have been hard for him. We hope for the best for him
With the 56,000-strong crowd going wild about the British victory, there was still time for them to hail the sport's favourite performer, who waved to them a mite forlornly while hobbling away from the track.
Five years ago, almost to the very night, British distance running hero Mo Farah had broken into Bolt's lightning bolt pose in this same stadium and the Jamaican had reciprocated with the Briton's trademark "Mobot" to mark their joyous supremacy at the London Olympics. Yet in the same stadium on Saturday, they attempted in vain to reprise that triumphant night, Farah ending up with silver in his final track race, over 5,000 metres, and Bolt suffering his anti-climactic farewell.
Their leaving of the track scene leaves a void in the sport that does not look like being filled any time soon.
Comments

Yesterday, in perfect conditions for racing at the National Park, Paul DeNobrega sprinted off with the spoils of the feature 35-lap event of the fifth Banks DIH's Non-Alcoholic 11-race programme.
Back Circle will battle Tigerbay, while Future Stars will oppose ESPN in the semifinal round, following quarter-final wins on Friday, in the 3rd Annual Xtra Beer 'Ballers in the Summer' Street Football Championship.

The Guyana Amazon Warriors' horror run in this year's edition of the Caribbean Premier League (CPL) continued yesterday, as they crumbled to yet another defeat, this time falling by seven wickets to top of the table Trinbago Knightriders at the Guyana National Stadium, Providence.

BIRMINGHAM, England, CMC – West Indies suffered a humiliating innings and 209-run defeat in the historic day/night opening Test after losing 19 wickets in a devastating capitulation on Saturday's third day at Edgbaston.
Guyana's Men's and Women's teams will have the opportunity to be crowned as Caribbean Champions when the NLA XXV Senior Caribbean Squash Championships conclude today in Kingstown, St.