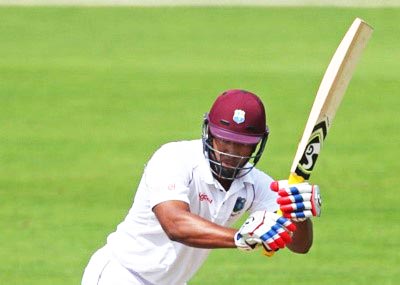 DERBY, England,  CMC – Opener Kieran Powell hit a stroke-filled hundred as West Indies rounded off their preparation for the next week's first Test in style, with another strong batting display at Derbyshire here yesterday.
Playing on the final day of the day/night encounter, West Indies piled up 327 for six declared in their second innings, to follow up their first innings 427 for three declared.
The left-handed Powell, who missed out on three figures on Friday's opening day with 92, made no mistake this time around as he converted his overnight 41 into exactly 100 before retiring.
Roston Chase carved out an unbeaten 60 to follow up his unbeaten hundred in the first innings while tail-ender Kemar Roach chipped in with 40 not out and wicketkeeper Shane Dowrich, 37.
The work out for the batting group would have been much welcomed, coming five days before the day/night opening Test against England at Edgbaston.
Powell led the effort in an innings which came from a mere 103 deliveries and included 19 fours, as he posted his seventh first class hundred.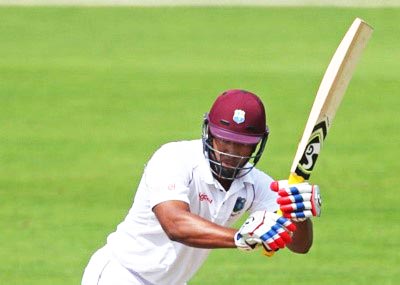 He put on 70 for the second wicket with Jermaine Blackwood (29) before retiring with a leg niggle on 158 for two.
Captain Jason Holder (18) stretched the third wicket partnership to 68 with Dowrich before falling just before lunch to left-arm spinner Matt Sonczak (2-56).
When the Caribbean side lost three wickets for 11 runs to slide to 223 for six, Chase and Roach further frustrated the hosts in an unbroken seventh wicket partnership of 104.
Chase, with a score of above 50 in all of his four innings on tour, punched seven fours and two sixes in a breezy 85-ball knock while Roach faced 89 deliveries and counted seven boundaries.
West Indies declared at tea with no outright result left in the encounter and Derbyshire were 51 without loss when the two captains called it quits.
Scoreboard
WEST INDIES 1st Innings 427-3 decl.
DERBYSHIRE 1st Innings 181
WEST INDIES 2nd Innings
(overnight 60 for one)
K Brathwaite c Cork b J Taylor                               11
K Powell ret. hurt                                                 100
J Blackwood c Slater b T Taylor                              29
+S Dowrich c Wood b Sonczak                                  37
*J Holder c Brodrick b Sonczak                              18
K Hope c Wood b MacDonell                                   18
S Hope c T Taylor b MacDonell                                5
R Chase not out                                                      60
K Roach not out                                                     40
Extras (b4, lb3, nb1, w1)                                         9
TOTAL (6 wkts decl., 85 overs)                              327
Fall of wickets: 1-45, 2-115, 3-183, 4-212, 5-223,
6-223.
Bowling: Milnes 12-4-58-0, T Taylor 10-1-46-1, J Taylor 3-0-14-1, Palladino 7-1-27-0, Cork 14-2-62-0, Sonczak 19-4-56-2, MacDonell 20-5-57-2.
DERBYSHIRE 2nd Innings
B Slater not out                                                      27
C MacDonell not out                                              17
Extras (lb2, w1, nb 4)                                             7
TOTAL (without loss, 14 overs)                             51
Bowling: Gabriel 4-0-24-0, Holder 2-0-11-0, Chase 5-0-13-0, Brathwaite 3-2-1-0.
Result: Match drawn.
Toss: West Indies.
Umpires: B Debenham, R Evans.
Around the Web