The Demerara Cricket Club (DCC) and the Georgetown Cricket Club (GCC) yesterday relaxed their competitive rivalry to join forces in launching their 2017 Summer Youth Cricket Camp at DCC, the Queenstown home of cricket legends, Clive Lloyd and Lance Gibbs.
Nearly 100 youth will spend the next ten days being exposed to the fundamentals of the sport, both on and off the field, under the watchful eyes of the camp's Technical Director, Coach Mark Harper, who will be supported by national Coach, Gavin Nedd and former West Indies test players, Travis Dowlin and Reon King.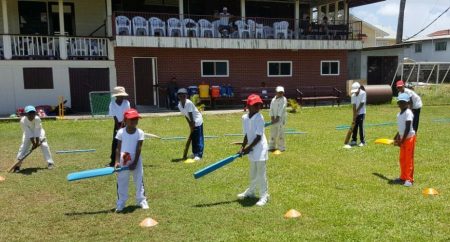 President of the Demerara Cricket Club, Patrick Harding, during his remarks at the launch, encouraged the youngsters to embrace the art of cricket and to soak up the finer points of the sport from the experts. President Harding also pointed out to the keenly attentive youngsters, the importance of fostering new friendships during their 10-day experience.
The summer initiative has been running for close to a decade now and has produced the likes of Ashmead Nedd, Qumar Torrington, Sachin Singh and Keemo Paul, all of whom have represented the West Indies at the youth level, while the careers of Raymond Perez, Sherfane Rutherford, and Ronaldo Ali Mohamed have been impacted by the camp.
Around the Web