Well that did not take long.
Imported just three weeks ago, Florida-bred Vera's Finally announced its arrival yesterday with a brilliant victory in the feature D and Lower mile event of the 11th running of the Guyana Cup.
The faultless manner in which the chestnut filly raced to victory in its debut race here, left the betting fans at the Rising Sun Turf Club in disbelief.
Vera's Finally stormed out of third post and bided its time while betting favorite, Just Call Me Boss set a blistering pace on the well prepared track. 
The move under the cloudless sky came in a flash.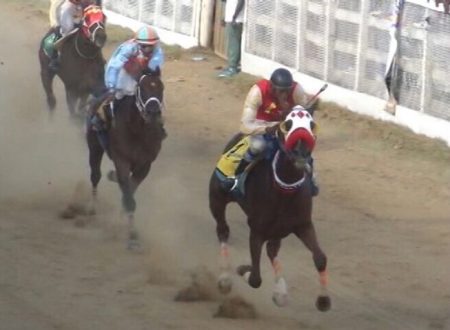 Just Call Me Boss had the lead, Isn't She Charming, Golden Blue Echo and others were lurking as champion jockey Colin Ross was waiting for the right moment to go with Vera's Finally.
The race which featured 11 starters was going according to his plan.
Around the second turn, Ross angled the champion race horse to the outside of the pace setter and the horses were neck-and-neck with five furlongs to go.
And then the theatrics started to unfold.
2015/2016 champion, Princess She Is Not went clear, her lead building with every powerful stride and then it happened.
With one breathtaking surge over the final two furlongs, Vera's Finally with Just Call Me Boss and It's My Choice on her hip seemingly never tired, displayed her superb sprinting speed.
The steed pinned back its ears and drew away on the home straight to claim the $2 million first prize by about two lengths ahead of Just Call Me Boss. It's My Choice placed third. Golden Blue Echo had a late surge and finished in fourth ahead of the fading Princess She Is Not.
The win for Vera's Finally had its handlers of the Jumbo Jet Racing Stables thinking about bigger things for the newly imported thoroughbred.
Besides the feature event, there were eight other races, three of which were won by the Jumbo Jet Racing Stables.
In excess of $15 million in cash and prizes were awarded,
The 'Sport of Kings' continues this Sunday at the Sky Plus Turf Club at the Number 36 Village.
Race results
Race 1 (I2 and Lower)
Maryann ($250,000)
Party Time
Liquid Lion
Red Jet
Race 2 (L & lower)
Supreme Cat ($200,000)
Irish Boy
Angel Eyes
Little Star
Race 3 (E2 & lower)
Release The Beast ($1.2 M)
Red Rocket
Storm Bird
Honey Flow
Race 4 (H2 and lower)
Quiet Dancer ($400,000)
Got To Go
Isn't She Charming
TNT
Race 5 (3 Year-Old Guyana Bred)
Seven Dust ($300,000)
Fresh Dancer
Ms. Olympia
King Stanley
Race 6 (2 Year-Old Guyana Bred)
The Final Line ($350,000)
Release The Beast
Touch of Gold
Princess Showna
Race 7 (G2 and lower)
Keep on Swinging ($700,000)
Midnight Blue
Red Rocket
Isn't She Charming
Race 8 (K and lower)
Slim Shady ($225,000)
Ready To Romance
Red Region
De Rocket
Around the Web