(Reuters) – Serena Williams aims to defend her Australian Open title next year, the American saying the rapid return to action would only give her around three months to prepare after giving birth to her first child.
The 23-times grand slam winner announced her pregnancy in April and will be on maternity leave for the rest of the year. The 35-year-old is engaged to Reddit co-founder Alexis Ohanian.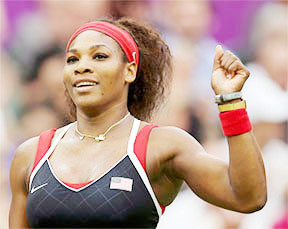 "It's the most outrageous plan," Williams told Vogue magazine. "I just want to put that out there. That's, like, three months after I give birth. I'm not walking anything back, but I'm just saying it's pretty intense.
"If I lose and I lose again, it's like, 'she's done'. Especially since I'm not 20 years old. I'll tell you this much: I won't win less. Either I win, or I don't play."
The American added that she could have a few new tricks up her sleeve after analysing her game on television over the last few months.
"I learn by watching. Or I watch old matches of myself on the Tennis Channel," she added.
"I hit amazing shots and these girls are running them down and hitting winners, and I'm beginning to see why. It's because I have patterns."
Williams is one grand slam shy of Australian Margaret Court's long-standing record of 24 major titles.
Comments

(Reuters) Three USA Gymnas-tics board members resigned yesterday in the wake of its former team physician sexually abusing female gymnasts, a step the organization said would support its reform efforts.

(Reuters) – The presidents of world soccer and world athletics are set to be snubbed by the International Olympic Commit-tee (IOC) next month when the body is likely to again overlook them for membership, a source told Reuters yesterday.

BRIDGETOWN, Barbados, CMC – The Vivian Richards Cricket Stadium in Antigua will host the final of the Women's Twenty20 World Cup later this year, the International Cricket Council confirmed yesterday.

By Charwayne Walker When Tagenarine Chanderpaul reached three figures against Barbados at the Kensington Oval in the ninth round of the Cricket West Indies Digicel-sponsored Regional four day championships earlier this month, the son of the legendary Shivnarine Chanderpaul had placed himself and his father on an elite fathers and sons list who had the distinct honour of scoring a century at the Regional First Class Level.

By Romario Samaroo Guyana Jaguars Head Coach, Esaun Crandon said Sunday that excellent preparation and planning were the factors mainly responsible for the Guyana Jaguars winning the just-concluded Cricket West Indies (CWI) Digicel Regional four-day competition.