(Reuters) – Serena Williams aims to defend her Australian Open title next year, the American saying the rapid return to action would only give her around three months to prepare after giving birth to her first child.
The 23-times grand slam winner announced her pregnancy in April and will be on maternity leave for the rest of the year. The 35-year-old is engaged to Reddit co-founder Alexis Ohanian.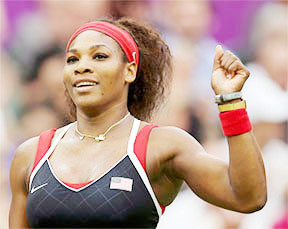 "It's the most outrageous plan," Williams told Vogue magazine. "I just want to put that out there. That's, like, three months after I give birth. I'm not walking anything back, but I'm just saying it's pretty intense.
"If I lose and I lose again, it's like, 'she's done'. Especially since I'm not 20 years old. I'll tell you this much: I won't win less. Either I win, or I don't play."
The American added that she could have a few new tricks up her sleeve after analysing her game on television over the last few months.
"I learn by watching. Or I watch old matches of myself on the Tennis Channel," she added.
"I hit amazing shots and these girls are running them down and hitting winners, and I'm beginning to see why. It's because I have patterns."
Williams is one grand slam shy of Australian Margaret Court's long-standing record of 24 major titles.
Comments

The inaugural Magnum 'Tek Charge and Win', Futsal Christmas Classic was officially launched yesterday at the Windjammer International Hotel and Cuisine, Queen Street, Kitty.

TAROUBA, Trinidad, CMC – Guyana Jaguars captain Leon Johnson hit a sparkling, fifth first-class hundred to put the current leaders and reigning three-time champions into the early ascendancy against Trinidad & Tobago Red Force in the Regional 4-Day Championship on Thursday.

If you are a fan of chiseled physiques, then the place to be this evening is the Theatre Guild in Parade Street, Kingston.

Turfites get ready, the 'Sport of Kings' returns to the Alness Turf Club tomorrow for a grand one-day meeting.
The Playoff Round of the Guyana Amateur Basketball Federation (GABF) 2017 'Road to Mecca' tournament bounces off today at the Cliff Anderson Sports Hall, Homestretch Avenue.