Guyana Football Federation (GFF) President Wayne Forde said, the CONCACAF Girls U17 Championship provided the ideal stage for the country to build its brand on the international circuit, and lay the foundation for hosting future tournaments.
Speaking at a press conference held at the Princess Ramada Hotel, Providence, last weekend, Forde said, "The hosting of the group-D of the CONCACAF Girls U17 Championship is a launching pad, it is a platform for Guyana to build its international brand, its international image within the CFU region and the wider CONCACAF family."
According to Forde, "Coordinating these three games have been quite a challenge for us, there is a lot more going on in the backroom and I am glad that when the fans enter the venue, what they saw… is a well-executed tournament. Nonetheless there is much to learn, we are growing, we took this decision just before our senior men played the Jamaican team in the CFU Championship and we are gradually getting to the point where, the GFF with our stakeholders, of course, will be able to execute and coordinate and organize major tournaments."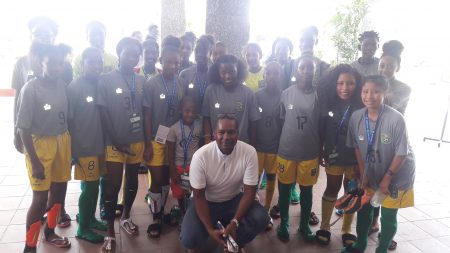 "The reason I am giving attention to that is because in short measure, we are going to be receiving notice on the commencement of work on our own facility and with that facility being built, we will be pushing for as much as possible to have international and regional tournaments being held in Guyana" he added.
Quizzed about the development of the female program, Forde declared, "I think what we are demonstrating by the work we are doing … we are on the right path. My executive committee is not interested in doing any short-term attention grabbing programs and initiative, we are making decisions that will have deep and solid lasting effects on the way that the sport is developed.
He affirmed, "I believe that Guyana needs to get serious about female football and the federation of course needs to lead in that regards. I am happy to have Mr. Beresford on board, the GFF development program will still see us accessing players from the diaspora.
We believe that players from the diaspora don't only add quality to our squad but they bring a measure of professionalism that in some instance, does not exist within the Guyana football landscape."
Asked about the positives of the team witnessed during tournament, Forde stated, "We had a first stint of encampment for three weeks and I saw such a stark improvement over the three week period that certainly translated on the field against Barbados. Many of the young ladies when they entered the academy program months ago had no technical ability in terms of receiving, passing or striking the ball and I think that in of itself is a major improvement because when we talk about being able to execute tactically, unless you have technical ability you can't play [defensive] shape."
Comments

MANCHESTER, England, (Reuters) – CONCACAF's governing council has agreed to launch a new Nations League tournament, for teams in North and Central America and the Caribbean, president Victor Montagliani told Reuters on Thursday.

The Association do Shotokan Karate (ASK)-Guyana held a grading exercise for 158 karate students last Sunday at the ASK Headquarters Dojo at the YMCA on Thomas Lands.
The inaugural Magnum 'Tek Charge and Win', Futsal Christmas Classic will be officially launched today at the Windjammer International Hotel & Cuisine, Queen Street, Kitty at 11:00hrs.

The Guyana Table Tennis Association (GTTA), as part of its ongoing developmental agenda, is collaborating with the sport's world governing body, the International Table Tennis Federation (ITTF) to host an ITTF Level One Coach course and a Course Conductors programme.
KOLKATA, (Reuters) – Sri Lanka paceman Suranga Lakmal breathed fire on a green track to rock India on a stop-start opening day of the rain-hit first test on Thursday.