Richie Ramdeholl, Manager of Guinness 'Greatest of the Streets' National Champion Dave and Celina's All-Stars, has declared that he is confident his charges can transition their outdoor success to the indoor version, when the Guinness Cage Football Championship kicks off on August 24th.
Dave and Celina's All-Stars were crowned the Guinness National Champion after defeating West Demerara unit and fierce rival, Hustlers 4-1, on July 15th 2017 at the National Park Tarmac.
In the process, they became the first team from the Mining Town of Linden to clinch the National Championship, ending the four year reign of Georgetown teams.
Richie stated, "We have the unity and the belief that we can do it again. Whether it's indoor or outdoor, we believe we can do it again. It's the same team, it's a winning team and they are capable of doing it again."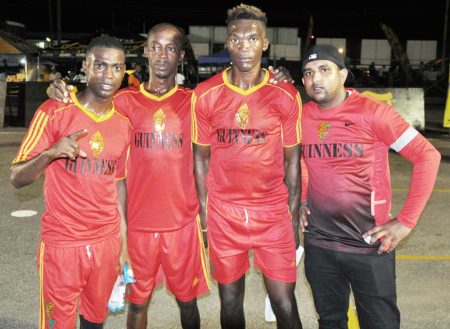 According to Ramdeholl, "We are looking to stay as the Guinness champion and we are looking forward to keeping our title and continue winning."
Quizzed about his level of preparation, Ramdeholl, said, "We are well prepared and ready for the tournament."
Asked if any tactical changes will be employed by the team, he revealed, "We will probably start with a different combination because it is different sequence of play. Overall they will be no major changes, when we meet at the tournament we will adjust."
According to Ramdeholl, "They are three teams we have in mind. Sparta Boss, Back Circle and Future Stars are the main threats for the title".
The inaugural Guinness Cage Football Championship will feature 32 teams battling over eight nights at the National Gymnasium on Mandela Avenue. The competition will commence on 24th August and conclude on the 16th September.
The tournament will be officially launched tomorrow at the Wind Jammer Hotel.
Around the Web