Guyana's men's and women's teams continued to roll yesterday, playing unbeaten at the NLA XXV Senior Caribbean Squash Championships, in Kingston, St. Vincent.
The Men's team finished up their pool play with a hard-fought victory over Jamaica 3-2, to top Group A. They will now play the second-place finisher from Group B, either Barbados or Trinidad depending on the outcome of their match.
According to Guyana's Manager/Coach Ramon Chan-A-Sue, the Guyanese ladies were in a take no prisoner's mood, as they steamrolled Trinidad and Tobago, 5-0. (See below)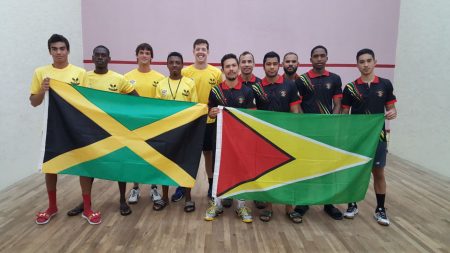 The Vets started their campaign yesterday against defending champions Barbados, unfortunately they lost 3-2 in a hard fought tie. Winning for Guyana were Men's 40+ Ramon Chan-A-Sue (3-1) and Men's 60+ Alwyn Callender (3-1). Guyana is playing without a Women's 40+ entry, so they are at a slight disadvantage in every match match. The husband and wife pair of David and Juanita Fernandes both lost their matches in three games.
Today the Ladies were scheduled to play their counterparts from the Cayman Islands while the Vets were to face Trinidad & Tobago and Bermuda, but just before press time, it was announced that play will be suspended for today because of  tropical storm Harvey.


Comments

A call by acting President Moses Nagamootoo urging the Commonwealth Federation to unite through sports was made yesterday at Olympic House (Liliendaal) during his keynote address at the Commonwealth Games Federation (CGF) meeting of the Americas and the Caribbean.

By Noelle Smith If he could get one wish granted immediately it would be for the playing fields and various sporting arenas across the country to be in proper condition.

In an extraordinary display of speed, grit and stamina, Team Coco's Jamal John emerged winner of the grueling 80-mile Victor Macedo Memorial road race yesterday.

Essequibo remained at the top of the points table after completing an exciting three – wicket victory over Georgetown in fourth-round action of the Guyana Cricket Board/Jaguars three – day franchise league at the Tuschen Sports Club ground, East Bank Essequibo, yesterday.

The aspirations of the petite, 23-year-old national and regional squash champion, Mary Fung-A-Fat, was to simply live a childhood dream of 'going pro.' On September 18, Mary participated in her debut match as a full-time pro at the 2017 Nash Cup tournament in London, Ontario, Canada where she gave a solid account of herself despite dropping her match against her English counterpart.