Guyana's men's and women's teams continued to roll yesterday, playing unbeaten at the NLA XXV Senior Caribbean Squash Championships, in Kingston, St. Vincent.
The Men's team finished up their pool play with a hard-fought victory over Jamaica 3-2, to top Group A. They will now play the second-place finisher from Group B, either Barbados or Trinidad depending on the outcome of their match.
According to Guyana's Manager/Coach Ramon Chan-A-Sue, the Guyanese ladies were in a take no prisoner's mood, as they steamrolled Trinidad and Tobago, 5-0. (See below)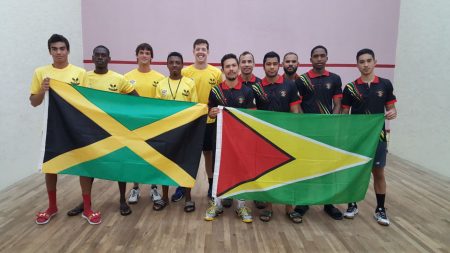 The Vets started their campaign yesterday against defending champions Barbados, unfortunately they lost 3-2 in a hard fought tie. Winning for Guyana were Men's 40+ Ramon Chan-A-Sue (3-1) and Men's 60+ Alwyn Callender (3-1). Guyana is playing without a Women's 40+ entry, so they are at a slight disadvantage in every match match. The husband and wife pair of David and Juanita Fernandes both lost their matches in three games.
Today the Ladies were scheduled to play their counterparts from the Cayman Islands while the Vets were to face Trinidad & Tobago and Bermuda, but just before press time, it was announced that play will be suspended for today because of  tropical storm Harvey.


Comments

HARARE, Zimbabwe, CMC – West Indies sneaked into next year's World Cup in England but just barely, as heavy rain coupled with a controversial umpiring decision, helped them beat Scotland by five runs under Duckworth-Lewis-Stern, and stage a great escape in their final Super Six match of the ICC World Cup Qualifiers here yesterday.

Nine months after successfully hosting the South American U-20 Championships, a delegation is readying to present a bid to the North American, Central Amer-ican and Caribbean Athletics Association (NACAC) to host the CARIFTA Games for the first time on these shores.

Top Brandz Distributors will team up with the Guyana Rugby Football Union (GRFU) for the first time under their Hairoun Beer-brand in support of the union's season opener on Saturday at the National Park.

The Guyana Table Tennis Association (GTT) is appealing for corporate support to assist it participate at this year's Caribbean Junior and Cadet Table Tennis Championships  in Havana, Cuba from April 2-8.

After the resounding success of the first three seasons of the Americas Rugby Championship, the continent will inaugurate a new performance tournament for countries in Sudamérica Rugby and Rugby Americas North.