Guyana's men's and women's teams continued to roll yesterday, playing unbeaten at the NLA XXV Senior Caribbean Squash Championships, in Kingston, St. Vincent.
The Men's team finished up their pool play with a hard-fought victory over Jamaica 3-2, to top Group A. They will now play the second-place finisher from Group B, either Barbados or Trinidad depending on the outcome of their match.
According to Guyana's Manager/Coach Ramon Chan-A-Sue, the Guyanese ladies were in a take no prisoner's mood, as they steamrolled Trinidad and Tobago, 5-0. (See below)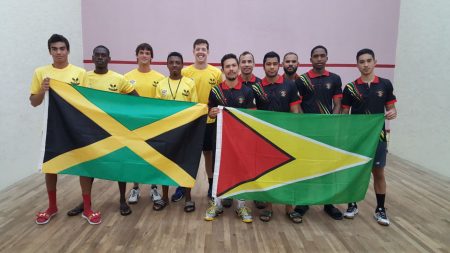 The Vets started their campaign yesterday against defending champions Barbados, unfortunately they lost 3-2 in a hard fought tie. Winning for Guyana were Men's 40+ Ramon Chan-A-Sue (3-1) and Men's 60+ Alwyn Callender (3-1). Guyana is playing without a Women's 40+ entry, so they are at a slight disadvantage in every match match. The husband and wife pair of David and Juanita Fernandes both lost their matches in three games.
Today the Ladies were scheduled to play their counterparts from the Cayman Islands while the Vets were to face Trinidad & Tobago and Bermuda, but just before press time, it was announced that play will be suspended for today because of  tropical storm Harvey.


Comments

Judgement Yard, Bad-a-Yard, Trap House, Gaza Squad, East Front Road and California Square were among the teams to seal their group berths to the Guinness 'Greatest of the Streets' Georgetown Championship, following playoff matches yesterday and Friday respectively.

TAROUBA, Trinidad, CMC – Openers Kyle Hope and Amir Jangoo gave Trinidad Red Force a solid start to their reply, after Vishaul Singh hit his second hundred of the season and shared a record stand with fellow century-maker Leon Johnson that put Guyana Jaguars in an impregnable position in their top-of-the-table Regional 4-Day Championship match on Friday.

BASSETERRE,  CMC – Leeward Islands Hurricanes captain Rahkeem Cornwall led a lion-hearted effort from the bowling attack yesterday to leave his side with a final-day chase of 302 for victory against Jamaica Scorpions in the Regional 4-Day Championship.
The Golden Jaguars will depart local shores today for Jakarta, Indonesia, for their International friendly against the 165th ranked host nation on Saturday.

By Charwayne Walker Firstly, congratulations must be extended to Coach Wayne `Wiggy' Dover and his charges for a hard-fought draw against the Soca Warriors at the Ato Boldon Stadium on November 14, 2017.