Guyana's men's and women's teams continued to roll yesterday, playing unbeaten at the NLA XXV Senior Caribbean Squash Championships, in Kingston, St. Vincent.
The Men's team finished up their pool play with a hard-fought victory over Jamaica 3-2, to top Group A. They will now play the second-place finisher from Group B, either Barbados or Trinidad depending on the outcome of their match.
According to Guyana's Manager/Coach Ramon Chan-A-Sue, the Guyanese ladies were in a take no prisoner's mood, as they steamrolled Trinidad and Tobago, 5-0. (See below)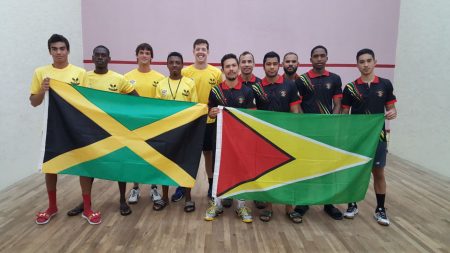 The Vets started their campaign yesterday against defending champions Barbados, unfortunately they lost 3-2 in a hard fought tie. Winning for Guyana were Men's 40+ Ramon Chan-A-Sue (3-1) and Men's 60+ Alwyn Callender (3-1). Guyana is playing without a Women's 40+ entry, so they are at a slight disadvantage in every match match. The husband and wife pair of David and Juanita Fernandes both lost their matches in three games.
Today the Ladies were scheduled to play their counterparts from the Cayman Islands while the Vets were to face Trinidad & Tobago and Bermuda, but just before press time, it was announced that play will be suspended for today because of  tropical storm Harvey.


Comments

Fresh from her victory over Agnieszka Radwanska of Poland (world- ranked number 35) whom she thrashed 6-2, 6-2 in the quarter-finals of this year's ASB Classic, American world-ranked tennis player Sachia Vickery accompanied by her mother Paula Liverpool and her brother Dominique Mitchell, yesterday paid a courtesy call to Minister of Social Cohesion who is also the Minister Responsible for Sport, Dr.

Minister with Responsibility for Sport Dr. George Norton yesterday reiterated his support for boxing and sport in general during a courtesy call by the top brass of the Guyana Boxing Board of Control (GBBC) and some of the combatants on the 'Bad Blood' card scheduled for Saturday at the Cliff Anderson Sports Hall (CASH).


The year 2018 has started badly for the Guyana Football Federation (GFF) as its Marketing Director, Dario McKinnon, has reportedly tendered his resignation.

MOUNT MAUNGANUI, New Zealand, CMC – West Indies Under-19s' title defence ended in shambles with a heavy 76-run defeat to South Africa Under-19s, but controvery accompanied their disappointing exit from the International Cricket Council (ICC) Youth World Cup here yesterday.

West Indies fast bowler Ronsford Beaton says he remains reassured even though there are suspicions about the legality of his bowling action an issue which poses a threat to his fledging career.