Guyana's men's and women's teams continued to roll yesterday, playing unbeaten at the NLA XXV Senior Caribbean Squash Championships, in Kingston, St. Vincent.
The Men's team finished up their pool play with a hard-fought victory over Jamaica 3-2, to top Group A. They will now play the second-place finisher from Group B, either Barbados or Trinidad depending on the outcome of their match.
According to Guyana's Manager/Coach Ramon Chan-A-Sue, the Guyanese ladies were in a take no prisoner's mood, as they steamrolled Trinidad and Tobago, 5-0. (See below)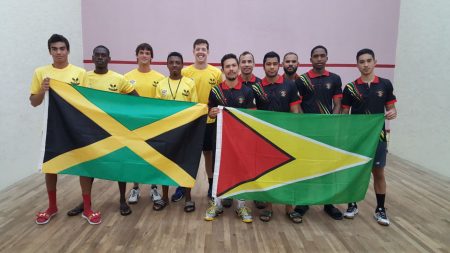 The Vets started their campaign yesterday against defending champions Barbados, unfortunately they lost 3-2 in a hard fought tie. Winning for Guyana were Men's 40+ Ramon Chan-A-Sue (3-1) and Men's 60+ Alwyn Callender (3-1). Guyana is playing without a Women's 40+ entry, so they are at a slight disadvantage in every match match. The husband and wife pair of David and Juanita Fernandes both lost their matches in three games.
Today the Ladies were scheduled to play their counterparts from the Cayman Islands while the Vets were to face Trinidad & Tobago and Bermuda, but just before press time, it was announced that play will be suspended for today because of  tropical storm Harvey.


Around the Web