Woodpecker Trophies and Sports became the latest company to support the inaugural Guinness 'Cage Football Championship, donating the second and third place trophies yesterday at a simple presentation ceremony, held at the company's Alberttown location.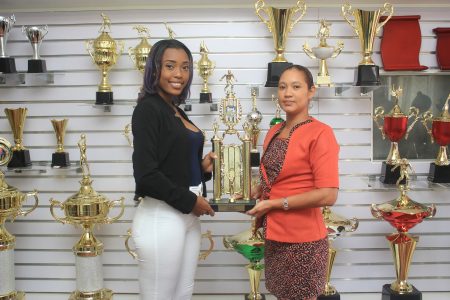 Angel Stuart, representative of event coordinator Three Peat Organization said, "On behalf of the Three Peat Organization, we are grateful for the timely contribution from Woodpecker Trophies and Sports which will go a long way in ensuring the success of the inaugural tournament."
According to Stuart, "Our organization strives to be similar to Woodpecker Trophies and Sports, which is an entity synonymous with sport. Once again on behalf, we are thankful for the support and we hope that relationship can continue and grow from strength to strength in the coming years."
The event which is scheduled to be launched on Monday August 20th at the Wind Jammer Hotel, will commence on Thursday August 24th at the National Gymnasium on Mandela Avenue.
Around the Web