Yesterday, in perfect conditions for racing at the National Park, Paul DeNobrega sprinted off with the spoils of the feature 35-lap event of the fifth Banks DIH's Non-Alcoholic 11-race programme.
The national cyclist, who sits atop the season's points table, led Jamal John and Andrew Hicks onto the podium in his sixth win of the season in a thrilling sprint finish.
Alonzo Ambrose, Marcus Keiler and Kemuel Moses completed the top six in the grueling event which DeNobrega won by a half of a bike length, in one hour, 19 minutes and 44 seconds.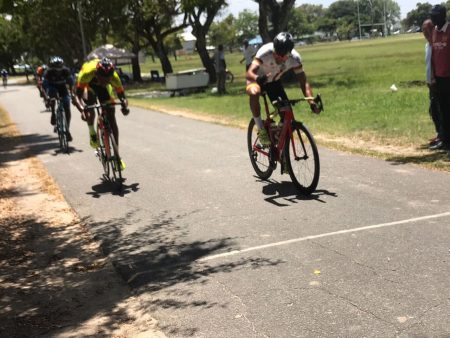 Before taking home the winner's trophy, DeNobrega garnered two of the eight sprint prizes. Two were picked up by John, Ambrose pocketed three and Hicks took the other.
Other winners yesterday included: Warren McKay (Veteran U-50), Kennard Lovell (Veteran O-50), Nigel Duguid (Juveniles), Nigel Jacobs (Mountain Bike), Jonathan Ramsuchit (Boys and Girls 12-14), Jarred Barrington (Boys 6-9) and Thuran Garbarran (Boys 12-14).
Banks' Non Alcoholic Brand Ambassador, Clayton McKenzie made the presentations to the top performers at the conclusion of the fixture.
Around the Web