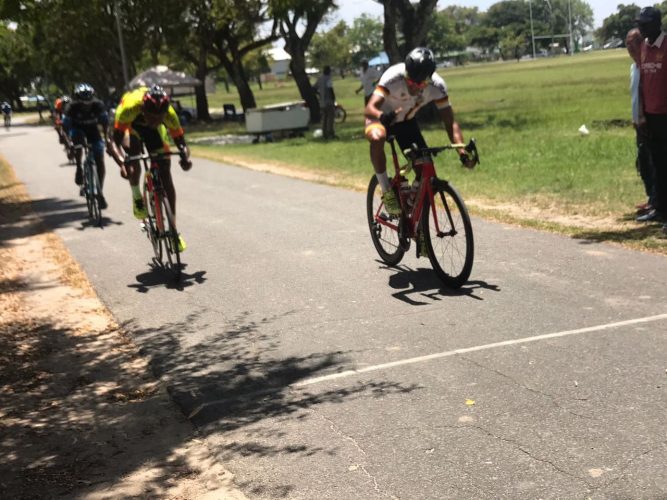 Yesterday, in perfect conditions for racing at the National Park, Paul DeNobrega sprinted off with the spoils of the feature 35-lap event of the fifth Banks DIH's Non-Alcoholic 11-race programme.
The national cyclist, who sits atop the season's points table, led Jamal John and Andrew Hicks onto the podium in his sixth win of the season in a thrilling sprint finish.
Alonzo Ambrose, Marcus Keiler and Kemuel Moses completed the top six in the grueling event which DeNobrega won by a half of a bike length, in one hour, 19 minutes and 44 seconds.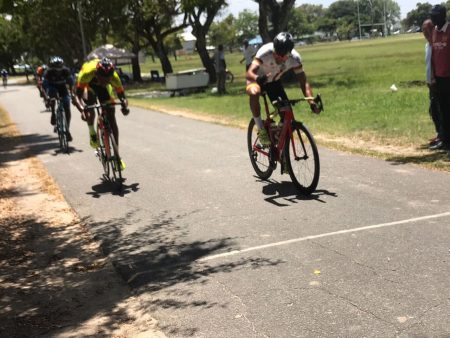 Before taking home the winner's trophy, DeNobrega garnered two of the eight sprint prizes. Two were picked up by John, Ambrose pocketed three and Hicks took the other.
Other winners yesterday included: Warren McKay (Veteran U-50), Kennard Lovell (Veteran O-50), Nigel Duguid (Juveniles), Nigel Jacobs (Mountain Bike), Jonathan Ramsuchit (Boys and Girls 12-14), Jarred Barrington (Boys 6-9) and Thuran Garbarran (Boys 12-14).
Banks' Non Alcoholic Brand Ambassador, Clayton McKenzie made the presentations to the top performers at the conclusion of the fixture.
Comments

A call by acting President Moses Nagamootoo urging the Commonwealth Federation to unite through sports was made yesterday at Olympic House (Liliendaal) during his keynote address at the Commonwealth Games Federation (CGF) meeting of the Americas and the Caribbean.

By Noelle Smith If he could get one wish granted immediately it would be for the playing fields and various sporting arenas across the country to be in proper condition.

In an extraordinary display of speed, grit and stamina, Team Coco's Jamal John emerged winner of the grueling 80-mile Victor Macedo Memorial road race yesterday.

Essequibo remained at the top of the points table after completing an exciting three – wicket victory over Georgetown in fourth-round action of the Guyana Cricket Board/Jaguars three – day franchise league at the Tuschen Sports Club ground, East Bank Essequibo, yesterday.

The aspirations of the petite, 23-year-old national and regional squash champion, Mary Fung-A-Fat, was to simply live a childhood dream of 'going pro.' On September 18, Mary participated in her debut match as a full-time pro at the 2017 Nash Cup tournament in London, Ontario, Canada where she gave a solid account of herself despite dropping her match against her English counterpart.