The Kares Engineering Inc. Boyce and Jefford Track and Field Classic VIII recently handed over an undisclosed sum of cash to Chantoba Bright, Compton Caesar and Daniel Williams, three of Linden's and Guyana's top athletes.
Bright and Caesar were gold medalists at the 2017 CARIFTA Games in Curacao in April, while Williams won a silver at the IAAF World Youth Championships in Kenya last month. It was not the first time that the Boyce/Jefford Committee has enacted such an initiative. In 2014, the group made a similar presentation to middle distance phenom, Cassey George. The idea is for the funds to have a direct impact on the development of the standout athletes.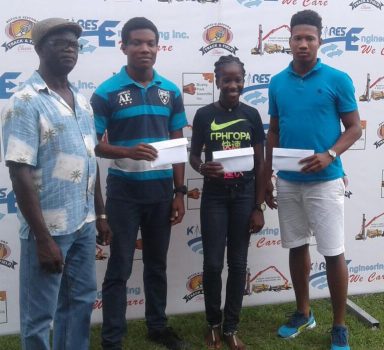 Williams was also a big winner at the Boyce/Jefford Classic VIII last weekend. The 17 year-old was the best male sprinter on show, winning the Champion male athlete award, and as a result, $50,000. It was no different for him in the International Men's 200m.
Bright won the International Women's Long Jump. The contributions were added incentives for the athletes who continue to keep Guyana's flag flying high in the athletic world. Chairman of the Boyce & Jefford Committee, Colin Boyce, who handed over the funds, said that this component of giving back to the athletes and community is an established feature of the annual competition.
According to Boyce, if not the athletes directly, the Boyce/Jefford Committee is in the habit of donating annually to a charitable organization in Linden. He said that they do not always make their efforts public, but giving back to the community is a strong feature of the event.
Comments

Fresh from her victory over Agnieszka Radwanska of Poland (world- ranked number 35) whom she thrashed 6-2, 6-2 in the quarter-finals of this year's ASB Classic, American world-ranked tennis player Sachia Vickery accompanied by her mother Paula Liverpool and her brother Dominique Mitchell, yesterday paid a courtesy call to Minister of Social Cohesion who is also the Minister Responsible for Sport, Dr.

Minister with Responsibility for Sport Dr. George Norton yesterday reiterated his support for boxing and sport in general during a courtesy call by the top brass of the Guyana Boxing Board of Control (GBBC) and some of the combatants on the 'Bad Blood' card scheduled for Saturday at the Cliff Anderson Sports Hall (CASH).


The year 2018 has started badly for the Guyana Football Federation (GFF) as its Marketing Director, Dario McKinnon, has reportedly tendered his resignation.

MOUNT MAUNGANUI, New Zealand, CMC – West Indies Under-19s' title defence ended in shambles with a heavy 76-run defeat to South Africa Under-19s, but controvery accompanied their disappointing exit from the International Cricket Council (ICC) Youth World Cup here yesterday.

West Indies fast bowler Ronsford Beaton says he remains reassured even though there are suspicions about the legality of his bowling action an issue which poses a threat to his fledging career.