The Kares Engineering Inc. Boyce and Jefford Track and Field Classic VIII recently handed over an undisclosed sum of cash to Chantoba Bright, Compton Caesar and Daniel Williams, three of Linden's and Guyana's top athletes.
Bright and Caesar were gold medalists at the 2017 CARIFTA Games in Curacao in April, while Williams won a silver at the IAAF World Youth Championships in Kenya last month. It was not the first time that the Boyce/Jefford Committee has enacted such an initiative. In 2014, the group made a similar presentation to middle distance phenom, Cassey George. The idea is for the funds to have a direct impact on the development of the standout athletes.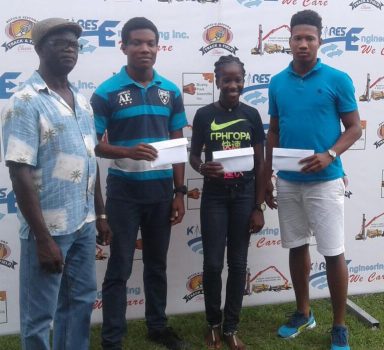 Williams was also a big winner at the Boyce/Jefford Classic VIII last weekend. The 17 year-old was the best male sprinter on show, winning the Champion male athlete award, and as a result, $50,000. It was no different for him in the International Men's 200m.
Bright won the International Women's Long Jump. The contributions were added incentives for the athletes who continue to keep Guyana's flag flying high in the athletic world. Chairman of the Boyce & Jefford Committee, Colin Boyce, who handed over the funds, said that this component of giving back to the athletes and community is an established feature of the annual competition.
According to Boyce, if not the athletes directly, the Boyce/Jefford Committee is in the habit of donating annually to a charitable organization in Linden. He said that they do not always make their efforts public, but giving back to the community is a strong feature of the event.
Comments

Afghanistan and Ireland in shootout today for final place ICC Media: The United Arab Emirates broke around 20 million hearts and made nearly 50 million friends when they all but eliminated Zimbabwe from the ICC Cricket World Cup 2019 race to give Afghanistan and Ireland a lifeline by turning their last Super Six match as a shootout for the last remaining spot in the ICC's pinnacle 50-over event which will be staged in England and Wales from 30 May to 14 July.

AUCKLAND, (Reuters) – New Zealand captain Kane Williamson was in sight of his 18th test century as the ball dominated the bat on the opening day of the two-match series with England dismissed for a record low score of 58 at Eden Park on Thursday.

Colts clinched the First Division title, while Plaisance Guardians secured the Under-23 Championship, as they both swept their respective best-of-three finals, 2-0, as the Georgetown Amateur Basketball Association (GABA) 'Knockout Championship' concluded on Wednesday.

Harvard Rugby Club of Trinidad and Tobago will arrive in Guyana today ahead of tomorrow's showdown at the National Park, in the Guyana Rugby Football Union (GRFU)/Hairoun Beer Sevens tournament.

The 2018 cycling season will resume tomorrow in the National Park with the staging of the Fifth Annual Star Party Rental 11-race programme.