The Kares Engineering Inc. Boyce and Jefford Track and Field Classic VIII recently handed over an undisclosed sum of cash to Chantoba Bright, Compton Caesar and Daniel Williams, three of Linden's and Guyana's top athletes.
Bright and Caesar were gold medalists at the 2017 CARIFTA Games in Curacao in April, while Williams won a silver at the IAAF World Youth Championships in Kenya last month. It was not the first time that the Boyce/Jefford Committee has enacted such an initiative. In 2014, the group made a similar presentation to middle distance phenom, Cassey George. The idea is for the funds to have a direct impact on the development of the standout athletes.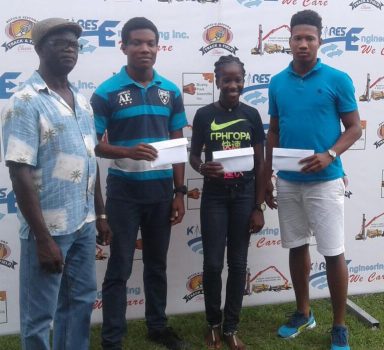 Williams was also a big winner at the Boyce/Jefford Classic VIII last weekend. The 17 year-old was the best male sprinter on show, winning the Champion male athlete award, and as a result, $50,000. It was no different for him in the International Men's 200m.
Bright won the International Women's Long Jump. The contributions were added incentives for the athletes who continue to keep Guyana's flag flying high in the athletic world. Chairman of the Boyce & Jefford Committee, Colin Boyce, who handed over the funds, said that this component of giving back to the athletes and community is an established feature of the annual competition.
According to Boyce, if not the athletes directly, the Boyce/Jefford Committee is in the habit of donating annually to a charitable organization in Linden. He said that they do not always make their efforts public, but giving back to the community is a strong feature of the event.
Comments

A savage unbeaten half-century from Ricardo Adams carried Essequibo to within reach of victory over Georgetown in the latest round Guyana Cricket Board/Jaguars three-day Franchise League competition at the Tuschen Sports Club Ground, East Bank Essequibo, yesterday.

Guyana Football Federation (GFF) President Wayne Forde said Friday that the International Football Federation had decided to halt funding to the GFF following an audit investigation.
BRISTOL, England, CMC — West Indies will hope the return of Chris Gayle to their line-up will trigger the spark that leads to a series-levelling victory over England in the third One-day International today.

BRIDGETOWN, Barbados, CMC — Regional administrators have a huge challenge to restore respect and confidence from fans and stakeholders of the game inside and outside of the Caribbean.
LONDON,  CMC — Bermudian cricketer Delray Rawlins is heading to Australia shortly to play club cricket and develop his game after signing a new deal that will keep him at England's Sussex County Cricket Club at least until the end of 2019.