The Kares Engineering Inc. Boyce and Jefford Track and Field Classic VIII recently handed over an undisclosed sum of cash to Chantoba Bright, Compton Caesar and Daniel Williams, three of Linden's and Guyana's top athletes.
Bright and Caesar were gold medalists at the 2017 CARIFTA Games in Curacao in April, while Williams won a silver at the IAAF World Youth Championships in Kenya last month. It was not the first time that the Boyce/Jefford Committee has enacted such an initiative. In 2014, the group made a similar presentation to middle distance phenom, Cassey George. The idea is for the funds to have a direct impact on the development of the standout athletes.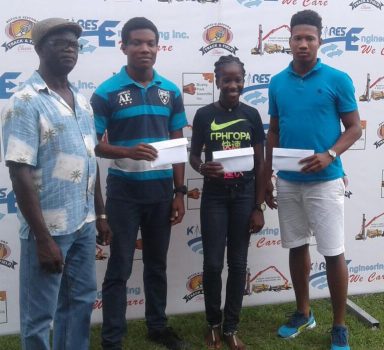 Williams was also a big winner at the Boyce/Jefford Classic VIII last weekend. The 17 year-old was the best male sprinter on show, winning the Champion male athlete award, and as a result, $50,000. It was no different for him in the International Men's 200m.
Bright won the International Women's Long Jump. The contributions were added incentives for the athletes who continue to keep Guyana's flag flying high in the athletic world. Chairman of the Boyce & Jefford Committee, Colin Boyce, who handed over the funds, said that this component of giving back to the athletes and community is an established feature of the annual competition.
According to Boyce, if not the athletes directly, the Boyce/Jefford Committee is in the habit of donating annually to a charitable organization in Linden. He said that they do not always make their efforts public, but giving back to the community is a strong feature of the event.
Comments

If you are a fan of mass and aesthetics then Saturday night at the Theatre Guild was the place to be since some of the best bodies in the Region took the stage to do battle in what turned out to be a fantastic evening.

Star cyclist, Jamal John added yet another piece of hardware to his collection.

By Noelle Smith Guyana's Shemar Britton said he is satisfied with his play at the recent Water and Sewerage Authority (WASA) Invita-tional table tennis tournament in Trinidad and Tobago.

The University of Guyana (UG) will field a number of athletes to compete at the26th Organization of Universities of Latin American and Caribbean (UDUAL) Games in Curacao.

Rising star Raekwon Noel has been creating waves in the swimming arena in Guyana.