Following much anticipation, the inaugural Guinness 'Cage Football Championship' coordinated by Three Peat Promotions, was officially launched yesterday at the Windjammer International Hotel, Kitty.
The event which beplayed over eight nights, features 32 teams from several regions, battling for over $700,000 in cash and prizes.
The complete list of playing dates are August 24th, 29th, and 31st, September 2nd, 5th, 7th, 9th and 16th.
Victors of the championship will walk away with $400,000 and the championship trophy, while the runner-up will pocket $200,000 and the respective trophy.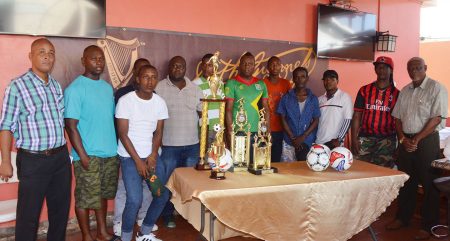 The third and fourth place finishers will collect $100,000 and $50,000, respectively, and the corresponding accolades.
On the individual side, the Most Valuable Player (MVP) will receive a gold chain and a trophy.
Speaking at the launch, Rawle Welch, representative of Three Peat Promotions said, "The tournament was conceptualized months earlier between myself and colleagues, and it was readily accepted following our proposal to Banks DIH Limited. We are very pleased to have such a large company like Banks DIH Limited on board."
According to Welch, "It has been an arduous process to get to where we are, but I expect the tournament to be a success and I can assure the management of the National Sports Commission (NSC) that all conditions will be met."
He added, "I implore all the fans to be on their best behaviour, which is very often, as it is getting more difficult to gain access to the venues and the support of the necessary stakeholders to stage such tournaments. We have to work together to make the event a tremendous success so it can continue next year."
Meanwhile Gervy C. Harry, Administrative Manager of the NSC, implored on the organizers, spectators and the competing teams to practice discipline throughout the entirety of the tournament, as sanctions can be enforced for misconduct.
According to Harry, the coordinators must be applauded for taking such a bold step in staging the event, adding "I am an advocate for discipline in sports", and that the perception of the local football culture must be eradicated.  The tournament will resume on Tuesday August 29th at the same venue. The other sponsors of the event are Woodpecker Trophies and Sports, NSC, Claude Geddes Recreational Sports Club, Windjammer International Hotel, Star Party Rentals, KAP Copy Centre and Henry Chase.
Guinness Cage ChampionshipElimination Fixtures-August 24th
Home Team             Away Team                        Time
Broad Street           Old School Ballers            19:00hrs
Bent Street              Hustlers                           19:30hrs
Leopold Street       Plaisance                         20:00hrs
Dave and Celina's All-Stars   Pike Street Sophia       20:30hrs
North East La Penitence            Mocha             21:00hrs
Tigerbay                  Silver Bullets                   21:30hrs
Albouystown-A Alexander Village              22:00hrs
Future Stars       Agricola Gas Team            22:30hrs
Guinness Cage ChampionshipElimination Fixtures-August 29th
Home Team                   Away Team                        Time
Sophia                              MBK All-Stars                   19:00hrs
West Back Road              Albouystown-B                  19:30hrs
Tucville                           Showstoppers                      20:00hrs
North Ruimveldt               Melanie                           20:30hrs
Champion Boys                 Channel-9 Warriors          21:00hrs
Gold is Money             Campbellville                         21:30hrs
Back Circle                     New Market Street               22:00hrs
Sparta Boss                   Vryheid Lust                           22:30hrs
Around the Web