LAS VEGAS, (Reuters) – As he gets set to face undefeated boxer Floyd Mayweather in their multi-million dollar bout today in Las Vegas, much is being made of Conor McGregor's lack of pro boxing experience, but it may turn out to be his greatest strength.
Mayweather has faced 49 boxers and beaten them all – 49 men who have studied the craft for years and years, and yet none of them could find a way through his submarine-tight defence and stinging attack. But even though he has little by way of experience, McGregor — and in particular his left hand — still poses a huge danger to Mayweather's proud unbeaten record.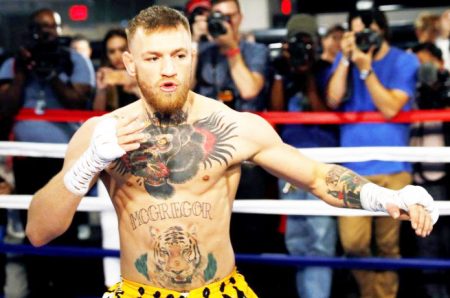 Despite the fact that he is about to become the best-paid boxing debutant in history, McGregor, who started boxing as a boy before making the switch to mixed martial arts, has never had a top-level encounter as a boxer.
That is not to say that he is a complete novice when it comes to the "sweet science," as boxing aficionados love to call their sport.
Mixed martial arts is exactly that – a cocktail of combat disciplines with whoever manages to mix up the most potent brew from their striking and grappling skills coming out on top in what can be brutal, gruelling encounters.
McGregor's striking is second to none, and his devastating left hand has powered his ascent to the top of the Ultimate Fighting Championship, where he became the first fighter to hold two belts simultaneously.
He showed his knockout power when decking Jose Aldo after 13 seconds to win the featherweight belt, and it was his laser precision in a flurry of four punches that sent Eddie Alvarez crashing down as he won the lightweight crown last year.
His movement is also mesmerizing – quick on his feet, his head bobbing slightly but constantly as he seeks new angles of attack.
Always meticulous in his preparations, it is unlikely that Mayweather has ever faced a southpaw with McGregor's power and style of movement before, and unlike his previous 49 opponents, there is little or no footage of McGregor sparring for him to study.
There are question marks over McGregor's endurance following his submission loss to Nate Diaz in 2016, where he emptied the gas tank looking for a big knockout and ended up putty in the hands of the rangy Californian.
Together with his head coach John Kavanagh and his vastly knowledgeable striking coach Owen Roddy, McGregor has been working to ensure that he can last the distance over 12 rounds of boxing.
McGregor can fight going forward or choose to sit back and counter-punch, but it is highly unlikely that Mayweather will seek to take the fight to his taller opponent, meaning the Irishman will have to take the initiative.
That means cutting off the ring and chasing down the elusive 40-year-old American if he is to have any chance of delivering on his promise of a knockout blow from his eight-ounce gloves within two rounds.
Comments

ST JOHN'S, Antigua,  CMC – Windward Islands Volcanoes held their nerve to beat defending champions Barbados Pride by three wickets in a dramatic Regional Super50 final here late yesterday and lift the domestic 50-overs title for the first time in five years.

Deputy Director of Sport Melissa Dow-Richardson has urged the Regional team to defend their home court and title at the upcoming Women's T20 World Cup which will be held in the Region in November this year.

Malachi Moore and Jasmine Billingy served their way to the boys and girls' under nine titles in the inaugural Banks Malta Supreme table tennis tournament at the Queen's College Auditorium, yesterday.

Like a good neighbour, Banks DIH Limited is there. It was disclosed recently that the local conglomerate has signed on to be a main sponsor of the Triple Crown Series.

The Guyana Football Federation (GFF) in partnership with the Guyana Beverage Incorporated (GBI) yesterday launched the GFF/Kool Kidz Grassroots Programme at the former's Section-K Campbellville headquarters.