Get ready distance athletes, the annual Courts (Unicomer Guyana Inc.)10km road race billed for October 1 was launched yesterday at its Main Street head office with lucrative cash prizes on offer.
The seventh running of the event will see a record $2M going towards the top finishers and logistics.
While the course remains the same, the logistics will be upgraded according to president of the Athletic Association of Guyana (AAG), Aubrey Hutson.
"We have acquired a software to deliver results more efficiently, so athletes and the media can look forward to the results immediately after the event" Hutson added.
"We will also ensure this year our logistics team is much better than last year, we plan to have at least three medical teams as part of this event." The AAG head further mentioned that he was pleased to see Court's continued support of the calendar event.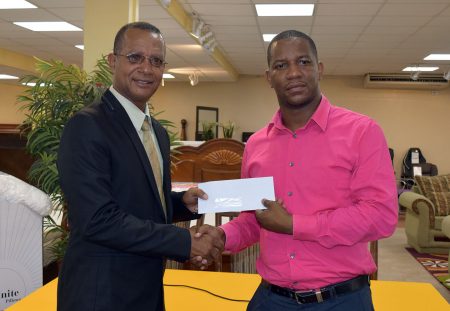 Pernell Cummings, Marketing Manager of the company, then noted that he is looking forward to seeing Guyana's best athletes performing as Courts does their part in helping to develop the discipline.
"It is part of our corporate social responsibility to help develop sport and we want to further develop athletics in Guyana." He added "We are always happy to partner with the AAG to bring off this annual event."
Cummings then threw down a challenge to the athletes to break the winning streak of Cleveland Forde and Euleen Josiah-Tanner, the perennial winners of the male and female category.
A Golden mile for youths along with a 3K event will be held simultaneously for staff members of the company and the first to third place winners for both male and female staff members will be awarded with cash prizes and trophies.
The winners of the open male and female categories will pocket $100,000 each, while the immediate runners up will take home $75,000, $50,000, $30,000 and $20,000 respectively.
The fixture which is expected to attract usual suspects, Forde, Cleveland Thomas, Winston Missigher, Joanna Archer, and Josiah-Tanner will run off at 06:00hrs in front of Courts.
Athletes are urged to register at the AAG's headquarters in Alberttown no later than September 26.
See you there.
Comments

President of the Guyana Football Federation (GFF) Wayne Forde said he  is pleased with the current work being conducted for phase one of the International Federation of Association Football (FIFA) Forward Project.

The 13th Annual Diamond Mineral Water Inter-national Hockey Festival, which was launched yesterday at the Georgetown Cricket Club (GCC), will commence today at the Cliff Anderson Sports Hall.

Jaguars three–day champions Essequibo along with Upper Corentyne, Lower Corentyne and West Demerara earned first round wins in the Guyana Cricket Board (GCB)/ Jaguars one-day league which began yesterday with games across the country.

CHRISTCHURCH, New Zealand, MC – An upbeat West Indies touched down here yesterday to continue preparation for their two-Test series against the hosts, bowling off next month.

MELBOURNE, (Reuters) – England's Ashes debutants face a baptism of fire in tomorrow's opening test at the Gabba, where four years ago the tourists' batsmen crumbled under an Australian short-pitched bowling assault.