West Indies Under – 15 captain, Sachin Singh, who recently returned from a tour of the United Kingdom where he led the Caribbean side to five wins out of their eight matches, has suggested that the experience playing in England will further develop his game.
The assignment with the Caribbean side was Singh's second after touring in 2016. The stockily built left-hander carved out 233 runs from seven innings to top the Caribbean side's runs aggregate with his best return being an unbeaten 56.
"It was a great experience for me both as a player and Captain who wants to develop my game," Singh told Stabroek Sport.
The youngster added, "It was a great opportunity and experience to Captain the West Indies for the first time and it was also a pleasure playing and leading the way with runs."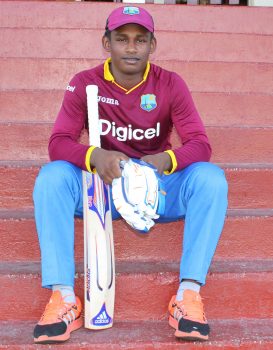 Singh, who is one of the talented young cricketers coming out of the Demerara Cricket Club (DCC), said that his biggest take away from the tour was his ability to counter the swinging ball on bouncier pitches in cold English conditions.
"Yeah, the conditions were a huge difference; I took some time to adapt to the conditions but in the end, I managed well. I really just adjusted my technique and focused on playing the ball later than I'm accustomed to," the 15-year-old added.
Singh indicated that he intends to work on his fitness to improve his concentration and all-round game, noting that he has his eyes set on a national Under – 19 spot and further afield, a West Indies Under – 19 selection.
Around the Web