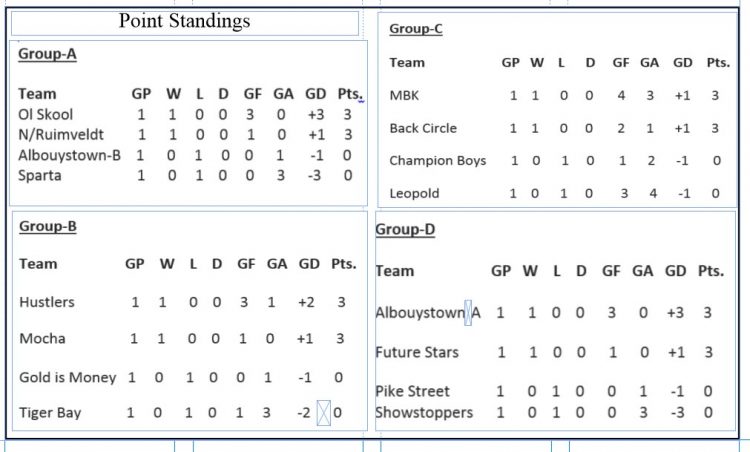 Old Skool Ballers created the biggest upset of the inaugural Guinness Cage Football Championship after defeating giant Sparta Boss 3-0 Thursday at the National Gymnasium, Mandela Avenue.
It was a clinical performance from the youthful outfit, who, led by a  Joel Mc Garrell hat trick,  dispatched the challenge of Sparta Boss.
McGarrell found the back of the net in the sixth, 19th and 20th minute.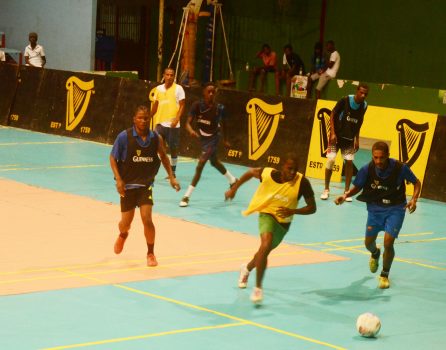 Meanwhile, the trend of upsets continued as Gold is Money, Leopold Street and Tiger Bay all suffered hard-fought defeats to lesser opponents. Mocha edged Gold is Money 1-0 through a Sceyon Hope second minute conversion while Meadowbrook (MBK) All-Stars downed Leopold Street 4-3. An own goal in the second minute opened the scoring while Christopher Hyderkhan, Nevon James and Oswald Cornett scored in the second, fifth, sixth and 20th minute respectively.
For Leopold Street, Okeene Fraser, Samuel Hunte, and Orandel Williams scored in the third, eighth and 17th minute respectively. On the other hand, Hustlers defeated Tiger Bay 3-1.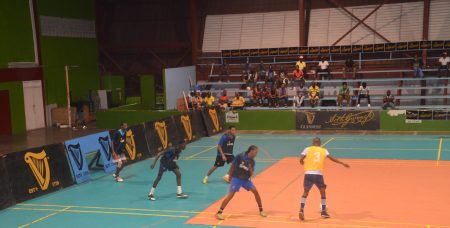 Sunil Logan bagged a double in the 12th and 15th minute, while Josiah Charles scored in the 18th minute. For Tiger Bay,  James Meredith netted in the fourth minute. Meanwhile, Albouystown-A sent a stern warning to the field, crushing Showstoppers 3-0.
Devon Dooker, Marlon Nedd and Tevin Curry scored in the fifth, 14th and 18th minute apiece. Also avoiding upset losses were Back Circle and Future Stars. Back Circle edged Champion Boys 2-1. Runel Gordon and Nick William netted in the fifth and 13th minute.
On target in the loss was Lloyd Matthews in the 11th minute. Future Stars squeaked past Pike Street Sophia 1-0, with Keron Solomon finding the back of the net in the 10th minute.
In other results, North Ruimveldt downed Albouystown-B 1-0 compliments of a Colin Daniels 13th minute conversion. The event resumes on Tuesday at the same venue with another eight group matches.
At 19:00hrs Hustlers battles Mocha, while from 19:30hrs, Pike Street Sophia engages Albouystown-A and North Ruimveldt opposes Ol Skool Ballers at 20:00hrs.
The fourth fixture will pit Gold is Money against Tiger Bay at 20:30hrs, while MBK All-Stars face off with Agricola Champion Boys at 21:00hrs and Future Stars tackle Showstoppers at 21:30hrs.
In the final two fixtures, Back Circle tackles Leopold Street at 22:00hrs and Sparta Boss opposes Albouystown-B from 22:30hrs. Following the end of the round-robin stage, the top two teams from each of the four groups will advance to the quarterfinal.
The complete list of the event sponsors are Star Party Rentals, Faye Joseph, Claude Geddes Recreational Sports Club, National Sports Commission, Windjammer International Hotel & Cuisine, Woodpecker Trophies & Sport, Y.K Investments & Pawn Shop, Henry Chase, Jai Signs, Trophy Stall of Bourda Market and John Fernandes Ltd.
Complete Results
Day-2
Game-1
North Ruimveldt-1 vs Albouystown-B-0
Colin Daniels-13th
Game-2
MBK All-Stars-4 vs Leopold Street-3
MBK Scorers
Own Goal-2nd
Christopher Hyderkhan-5th
Nevon Haynes-6th
Oswald Cornette-20th
Leopold Scorers
Okeene Fraser-3rd
Samuel Hunte-8th
Orandel Williams-17th
Game-3
Tiger Bay-1 vs Hustlers-3
Hustlers Scorers
Sunil Logan-12th and 15th
Josiah Charles-18th
Tiger Bay Scorer
James Meredith-4th
Game-4
Albouystown-A-3 vs Showstoppers-0
Devon Dooker-5th
Marlon Nedd-14th
Tevin Curry-18th
Game-5
Mocha-1 vs Gold is Money-0
Sceyon Hope-2nd
Game-6
Future Stars-1 vs Pike Street Sophia-0
Keron Solomon-10th
Game-7
Back Circle-2 vs Champion Boys-1
Back  Circle Scorers
Runel Gordon-5th
Nick William-13th
Champion Boys Scorer
Lloyd Matthews-11
Game-8
Sparta Boss-0 vs Ol Skool Ballers-3
Joel McGarrell-6th, 19th and 20th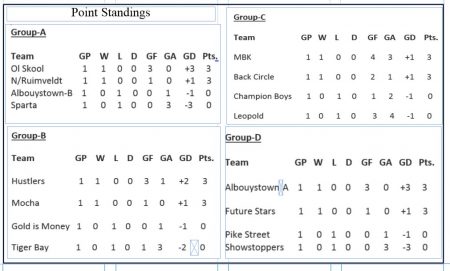 Comments

The Windward Islands Volcanoes booked their place in the final versus the Barbados Pride after beating the Guyana Jagaurs by 52 runs (D/L Method) in the rain affected second day/night semi-final of the Cricket West Indies Regional Super50 on Thursday at the Coolidge Cricket Ground.

Guyana Football Federation (GFF) President Wayne Forde yesterday acknowledged that he is aware of the letter signed by 17 referees demanding the removal of Head of the Referees Department, Stanley Lancaster.
Qwedada Fraser smacked 12 sixes on her way to an unbeaten 88, the highest individual score of the tournament so far, to lead Patentia Secondary to victory over L'Aventure Secondary in the female division of the 27th Annual Easter Term Windball cricket tournament.

Titans Table Tennis Club will serve off their inaugural Banks Smalta Supreme Junior Table Tennis tournament tomorrow morning at 9:00 hrs, at the Queen's College Auditorium, on Camp Road.

East Bank Cricket Association won the Demerara Cricket Board (DCB) Under-17 Inter-Association Tournament after beating West Demerara by 61 runs, yesterday at the Georgetown Cricket Club Ground, Bourda.