With their quarterfinal berths hanging by the proverbial thread Sparta Boss, Tiger Bay, West Front Road-Gold is Money, Leopold Street and Champion Boys, face must win group encounters tonight in the inaugural Guinness 'Cage Football Championship' at the National Gymnasium.
Guyana's most dominant Futsal team, Sparta Boss, finds itself in a precarious position following their embarrassing 3-0 group loss to Ol Skool Ballers.
The team, which is without talisman Devon Millington, has been on a downward spiral after defeats in the three previous championships. Much will be expected from the likes of Sheldon Shepherd, Solomon Austin, Gregory Richardson and Eusi Phillips.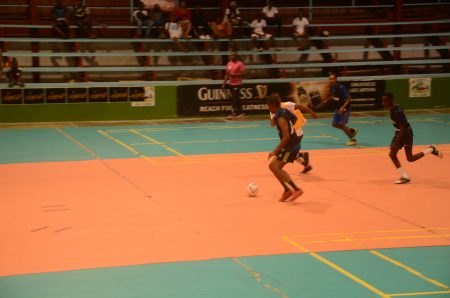 Their opponent, Albouystown-B, is also desperate for a win to keep their hopes alive of progression following their 0-1 group opener defeat to North Ruimveldt. An exciting and high-scoring affair is expected at kickoff time at 22:30hrs.
Similarly, West Front Road-Gold is Money must secure a positive result against fellow group strugglers Tiger Bay at 20:30hrs, in what could easily be the game of the night.
The West Ruimveldt side will need an inspired performance from Jamal Pedro, Randolph Wagner, Phillip Rowley and Carl Tudor if they are to overcome the likes of Deon Alfred, Godfrey Powers, Keoma Gravesande and Jason Fredericks.
Meanwhile, Leopold Street will engage Back Circle at 22:00hrs in another high-profile encounter. Leopold suffered a 3-4 defeat to Meadowbrook Kings (MBK) All-Stars in their earlier fixture and must avoid another defeat to keep their hopes alive.
The foursome of Okeene Fraser, Desmond Cottam, Omallo Williams and Sheldon Profit will need to improve their performances. For Back Circle, a 1-0 win highlights their campaign thus far.
Another win will surely guarantee their berth in the final eight, with the quartet of Andy Duke, Stephon McLean, Selwyn Williams and Adrian Adams fancying their chances of securing another victory.
Also, Champion Boys of Agricola, the pride of the East Bank of Demerara face a tough ask to secure a win against the rampant MBK All-Stars from 21:00hrs.
The East Bank of Demerara unit suffered a 1-2 loss to Back Circle and face the possibility of elimination against the free-scoring and fearless MBK All-Stars.
The opening fixture will pit Mocha against Hustlers at 19:00hrs while the second fixture Albouystown-A will oppose Pike Street Sophia at 19:30hrs. In the third contest, North Ruimveldt engages Ol Skool Ballers at 20:00hrs.
The other match dates are September 7th, 9th and 16th. The resulting victor of the historic event will receive $400,000 and the championship trophy. The runner-up will pocket $200,000 and the respective trophy.
Meanwhile, the third and fourth placed finishers will collect $100,000 and $50,000 respective and a trophy. On the individual side, the Most Valuable Player (MVP) will receive a gold chain from YK Investments and Pawn Shop and the respective accolade from Trophy Stall Bourda.
The complete list of the event sponsors are Star Party Rentals, Faye Joseph, Claude Geddes Recreational Sports Club, National Sports Commission, Windjammer International Hotel & Cuisine, Woodpecker Trophies & Sport, Y.K Investments & Pawn Shop, Henry Chase, Jai Signs, Trophy Stall of Bourda Market and John Fernandes Ltd.
Complete Fixtures-September 5th
Hustlers' vs Mocha-19:00hrs
Pike Street vs Albouystown-A-19:30hrs
North Ruimveldt vs Ol Skool Ballers-20:00hrs
Gold is Money vs Tiger Bay-20:30hrs
MBK All-Stars vs Champion Boys-21:00hrs
Future Stars vs Showstoppers-21:30hrs
Back Circle vs Leopold Street-22:00hrs
Sparta vs Albouystown-B-22:30hrs
Comments

The Guyana government stepped in on Friday and bailed the Guyana Rugby Football Union (GRFU) out of its financial predicament allowing for the male and female rugby teams to compete at this year's Rugby America's North (RAN) 7s Championship this weekend in Mexico.

KOLKATA, (Reuters) – India's captain Virat Kohli staved off the threat of defeat before their fast bowlers ensured the hosts finished on a high in the drawn opening test against Sri Lanka in an enthralling final day at the Eden Gardens yesterday.

The 2017 edition of the Guinness 'Greatest of the Streets' George-town Championship was officially launched yesterday at the Thirst Park Sports Club.
NEW YORK, (Reuters) – A government witness in the U.S. corruption trial related to soccer's world-governing body FIFA testified yesterday about millions of dollars paid to former soccer officials in exchange for broadcasting and sponsorship rights for international tournaments, all logged in a secret spreadsheet.

Young Achievers Volleyball club was once again the dominant force on the Demerara volleyball circuit after downing their counterparts from the Vanguard Volleyball club in straight sets in the final of the Demerara Volleyball Association (DVA) Men's 'B' division playoff played at the National Gymnasium, Sunday evening.