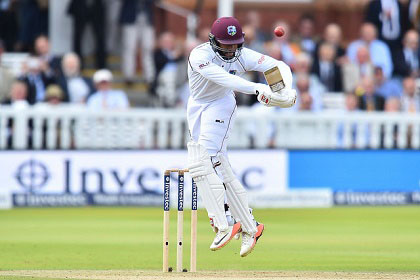 LONDON, CMC – Captain Jason Holder has leapt to the defence of his batting unit, after West Indies slumped to a nine-wicket defeat at Lord's to concede the three-Test series, 2-1, here Saturday.
Resuming the third day on 93 for three, the Windies were dismissed for 177, with only the in-form Shai Hope getting among the runs with 62.
At Headingley when West Indies stunned England in the second Test by five wickets, Hope was again the main run-scorer with 147 and 118 not out, while opener Kraigg Brathwaite got 134 and 95.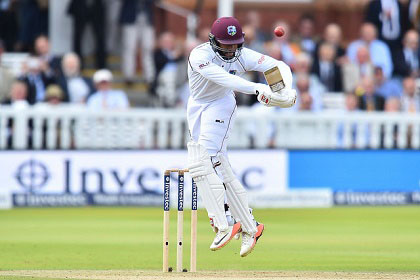 Jermaine Blackwood was the only other Windies batsman in the series to score a half-century but Holder said the batting element of the side continued to be a work in progress.
"I think a lot of your batsmen shaped up pretty well but didn't carry on. We got drawn in, trapped on the crease a lot of times and taken across to off stump and [got out] nicked behind," the all-rounder explained.
"It's something that happens to lots of people when they come here playing in England and as a first tour for many of us, I think think it is a hell of an achievement and a hell of a fight which we put up.
"Hopefully we can learn from this. We have New Zealand at the end of the year which will probably be similar conditions and similar type of bowlers too so it should be a good chance to take what we have learnt here and take into that series."
In the day/night first Test at Edgbaston, West Indies' batsmen struggled badly, mustering totals of 168 and 137, to lose by an innings and 209 runs inside three days.
Headingley proved the high point of the series for the Windies as they tallied 427 and 322 for five but they perished for 123 in the first innings at Lord's, in a disappointing showing.
Holder said despite the ups and downs of the series, the young side had shown definite improvement all-round and would use the experience to further develop. "I think we've shown improvement. When we sit down and critique each series we try to look for improvement and we've definitely shown improvement especially in our bowling," he contended.
"We're improving in our consistency there. Our batters are still finding their way, still relatively inexperienced but Shai really showed what he can do. He obviously struggled early on in his Test career and to have a series like he's had now is remarkable.
"Kraigg has really led our batting now for the last couple years and to see guys like Roston Chase in the last series and now Shai in this series putting up their hands [has been great]. It's just us coming together a little bit more and having a more collective effort when we step out with the bat."
He continued: "We've seen a guy like Kieran Powell shape up really well but not carrying on and that's hampered us a lot. There's still a lot of room for improvement but hopefully the guys can gain a lot of confidence from this series against a world class side, a top class bowling unit. To be able to achieve something in this series speaks a lot." Holder also pushed back on suggestions he had made the wrong decision to bat first on Thursday's opening day at Lord's.
"[There are] no regrets about batting first. We obviously didn't bat well enough on a day with some quality bowling but at the end of the day's play it justified what the conditions were like," he said in reference to the murky conditions that emerged half-hour into the day's play.
"When we flipped the toss outside was pretty sunny and the overhead conditions changed drastically. There are no regrets, that's just how the game goes sometimes. Hopefully we can learn from it and move on."
Comments

Afghanistan and Ireland in shootout today for final place ICC Media: The United Arab Emirates broke around 20 million hearts and made nearly 50 million friends when they all but eliminated Zimbabwe from the ICC Cricket World Cup 2019 race to give Afghanistan and Ireland a lifeline by turning their last Super Six match as a shootout for the last remaining spot in the ICC's pinnacle 50-over event which will be staged in England and Wales from 30 May to 14 July.

AUCKLAND, (Reuters) – New Zealand captain Kane Williamson was in sight of his 18th test century as the ball dominated the bat on the opening day of the two-match series with England dismissed for a record low score of 58 at Eden Park on Thursday.

Colts clinched the First Division title, while Plaisance Guardians secured the Under-23 Championship, as they both swept their respective best-of-three finals, 2-0, as the Georgetown Amateur Basketball Association (GABA) 'Knockout Championship' concluded on Wednesday.

Harvard Rugby Club of Trinidad and Tobago will arrive in Guyana today ahead of tomorrow's showdown at the National Park, in the Guyana Rugby Football Union (GRFU)/Hairoun Beer Sevens tournament.

The 2018 cycling season will resume tomorrow in the National Park with the staging of the Fifth Annual Star Party Rental 11-race programme.