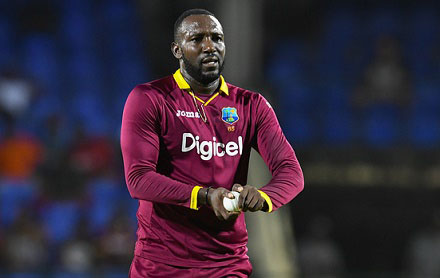 BELFAST, Ireland, CMC – Seamer Kesrick Williams is looking forward to building on a solid start to his one-day career when West Indies take on Ireland in a one-off One-Day International here today.
The 27-year-old, who made his ODI debut in June in the five-match series against India in the Caribbean, believes he can also make his mark against the Irish and stressed he would not be taking them lightly.
"I don't look at any team as being a lower class team. Cricket is cricket at the end of the day," the Vincentian said.
"I played against India and I had a good start to my ODI career. I didn't get as many wickets as I intended but it was a good start to my ODI career and it's just for me to continue."
Williams made his name in the shortest format after making his debut against Pakistan in the United Arab Emirates, before making his way into the ODI squad.
He has become known for his armoury of variations – slower balls and subtle changes in pace – and has managed to find success especially in the T20 format.
Having previously enjoyed a stint of professional cricket in England, Williams said he was aware of what was required to be successful in the conditions.
"I've played league cricket here before and I know what happens [with the ball] when you play in England so it's just for us to put the ball in the right areas," he noted.
"I've been watching the Test matches and I have seen what can happen when you bowl in good areas on these wickets."
Williams was one of the leading bowlers in the just concluded Caribbean Premier League where he grabbed a franchise-high 15 wickets for dethroned champions Jamaica Tallawahs.
But the Vincentian said it was important despite his recent success, that he now focussed on doing well for the Windies.
"Cricket is cricket at the end of the day. I'm coming off a good CPL. I got the third most wickets or yet another year [and was] in the CPL [All-Star] XI yet another year. [It] is a great feeling," he said.
"My performances are up there and I'm doing well but that's the past and that's already gone. It's just for me to look forward and look ahead and look to perform [again]."
The Windies take on the dangerous Irish who stunned them at the 2015 World Cup in New Zealand, when they chased down 305 in Nelson.
And with temperatures plummeting to 10 degrees Celsius on Tuesday, the Caribbean side were struggling to stay warm but Williams said there was a great spirit in the camp.
"Against Ireland, it's just for us to go out there and play as a group," he stressed.
"It's good to see that the guys are pumped and ready to go – everybody's in a good mood. It's a little bit cold but it's cricket and you have to be able to adjust to playing in any conditions."
Comments

The Guyana Defence Force (GDF) rugby outfit marched all over the Pepsi Hornets yesterday with a 41-10 trouncing when the Bounty Farm 15's league continued Sunday at the National Park.

Boxing and Track and Field are expected to be Guyana's best bet for medals at this year's South American Youth Games in Chile.

By Noelle Smith Laurie Adonis is a top notch rugby coach, one of the bets in the country.

Colts secured berths to the first and second-division finals while Pacesetters clinched a berth to the U23 final when the Georgetown Amateur Basketball Association (GABA) League Championship continued on Sunday.
Den Amstel, Soesdyke Falcons and Ann's Grove secured quarterfinal berths, when the Hamilton Green Football Championship continued on Sunday at the Victoria Community ground.