In an effort to develop the sport at the school level, local governing body, the Guyana Football Federation (GFF), donated several pieces of equipment to the President's College Football Programme.
According to a release from the entity, the presentation, which occurred yesterday, was made to the school's Physical Education Teacher Willon Cameron by GFF'S Youth Development Officer (YDO) Bryan Joseph.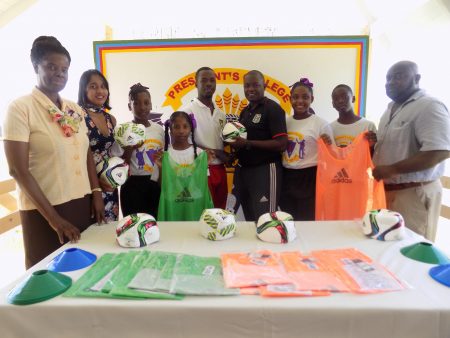 "The presentation consisted seven footballs, 16 bibs and 20 flat markers and was made to the project facilitated by the school's Alumni," the release stated.
Said Joseph: "The Technical Department of the GFF is very happy to partner with President's College Alumni. We're excited because a school has actually come forward and asked for support. Our system is set up in such a way that we have the expertise to provide support to schools and organizations so we're happy that the alumni has come forward." Cameron added, "This is a very excellent project which, by extension, will assist the country's football programme overall. So to have the Federation onboard really gives me great excitement to know that we have the support coming all the way from the top and I guarantee you that President's College Football Club will take another step to a higher level with all the support we have."
Also, Jafar Gibbons, member of the Alumni with responsibility for sport, said: "What I've realized, there's a vast number of kids in the school that come from the hinterland – a lot of them on scholarship – and they have to endure five to seven years of no football because it's a sixth-form school. Oftentimes, they're from an area where it's predominantly football so to not have the sport you love in the school, it really hinders the amount of joy you can have at the school."
Comments

Guyana recorded their worst showing yesterday in the Pan American Indoor Hockey Championship, losing to Canada in the Men's division and Trinidad and Tobago and the United States of America (USA) in the Women's section.

FLORENCE HALL, Jamaica, CMC – Dasun Shanaka stroked an aggressive, unbeaten hundred but fast bowler Keon Joseph led a focussed bowling effort to help restrict Sri Lanka A on the opening day of the second four-day "Test" here Thursday.

Future Stars secured the coveted Street Vibes Entertainment 'National Futsal Championship', dismissing Gold is Money by a 4-1 score line on Wednesday at the National Gymnasium, Mandela Avenue.

Tourney host, Upper Demerara Football Association (UDFA) was crowned as the inaugural GT Beer Intra-Association Football Champion, dismantling West Demerara 3-0 on Wednesday at the Mackenzie Sports Club (MSC) ground, Linden.

BULAWAYO, Zimbabwe, CMC – Though winning the upcoming two-Test series against Zimbabwe will be vital, head coach Stuart Law said Thursday continuing to make key improvements as a Test unit would be the overall objective.