In an effort to develop the sport at the school level, local governing body, the Guyana Football Federation (GFF), donated several pieces of equipment to the President's College Football Programme.
According to a release from the entity, the presentation, which occurred yesterday, was made to the school's Physical Education Teacher Willon Cameron by GFF'S Youth Development Officer (YDO) Bryan Joseph.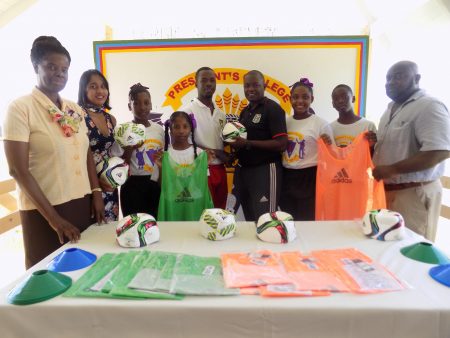 "The presentation consisted seven footballs, 16 bibs and 20 flat markers and was made to the project facilitated by the school's Alumni," the release stated.
Said Joseph: "The Technical Department of the GFF is very happy to partner with President's College Alumni. We're excited because a school has actually come forward and asked for support. Our system is set up in such a way that we have the expertise to provide support to schools and organizations so we're happy that the alumni has come forward." Cameron added, "This is a very excellent project which, by extension, will assist the country's football programme overall. So to have the Federation onboard really gives me great excitement to know that we have the support coming all the way from the top and I guarantee you that President's College Football Club will take another step to a higher level with all the support we have."
Also, Jafar Gibbons, member of the Alumni with responsibility for sport, said: "What I've realized, there's a vast number of kids in the school that come from the hinterland – a lot of them on scholarship – and they have to endure five to seven years of no football because it's a sixth-form school. Oftentimes, they're from an area where it's predominantly football so to not have the sport you love in the school, it really hinders the amount of joy you can have at the school."
Comments

The Leon Johnson-led Guyana Jaguars cricket team returned home yesterday following their semifinal exit on Thursday taking a lot of positives from the Cricket West Indies (CWI) Regional Super50 tournament.

National player Chelsea Edghill will not participate in the upcoming Commonwealth Games a close associate of the Guyana Table Tennis Association (GTTA) has revealed.

The Athletic Association of Guyana (AAG) has confirmed its list of athletes picked to represent the nation at the 2018 Commonwealth Games.
Some two weeks after the tournament was expected to conclude, the final of the Guyana Cricket Board (GCB)/Dave West Indian Imports Under-15 tournament 2018 is set to take place today at the Georgetown Cricket Club (GCC) Ground, Bourda, weather permitting.

Former West Indies captain, Ramnaresh Sarwan and friends have decided to sponsor two tournaments in Berbice in an effort to assist the development of the game in the Ancient County.