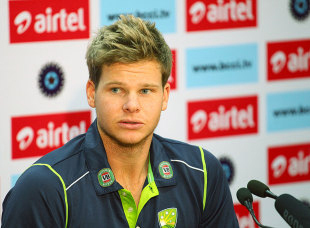 MELBOURNE, (Reuters) – Australia captain Steve Smith has accused his batsmen of "panicking" under pressure and demanded they show more starch after another collapse against India saw the side thrashed by 50 runs in the second one-day international in Kolkata.
India set Australia 252 to chase at Eden Gardens and defended it with ease on Thursday as the tourists lost openers David Warner and Hilton Cartwright for one run apiece and crumbled with a hat-trick to left-arm spinner Kuldeep Yadav.
The world champions trail the hosts 2-0 in the five-match series and have now notched up their 10th ODI loss in succession on foreign pitches.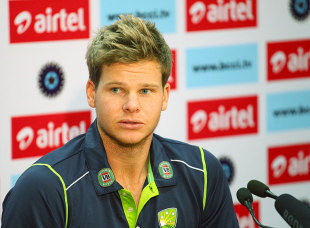 Clearly fed up, Smith, who scored 59, said his batsmen were making "silly errors" and had to change their approach
"It's happening a bit too often for my liking, to be honest with you, in all forms of cricket," Smith told reporters. "We've had a lot of collapses and we need to stop."The guys have trained really well and it's now about getting out in the middle and executing your skills when you're under pressure and not panicking.
"I think we panicked last game a little bit and in this game, we just couldn't get the partnerships. We're making silly errors when we're under pressure."
Australia's last five batsmen managed a total of 10 runs between them in Kolkata, while the top order rarely looked comfortable playing the spin of Kuldeep and Yuzvendra Chahal.
"It's easy to just sit here and say 'it needs to stop', but when you get out in the middle you have to change what you're doing because it's not working," added Smith, whose 100th ODI was spoilt by the result.
"Watching the ball closer or maybe the guys are trying to watch it too closely and forgetting about just playing the game.
"It's a hard one to put my finger on. But whatever it is, it needs to change and we need to make better decisions when we're under pressure and start playing the game properly."
Marcus Stoinis was unbeaten on 62 from 65 balls in a rare bright spot for the tourists and Smith said he had given his team mates the blueprint for how to handle the conditions and the Indian bowlers.
"He didn't panic, he was calm and he played good cricketshots," Smith said. "He was nice and positive with his intent. "We just needed someone else in the top four to go on and make a score."
Comments

Guyana recorded their worst showing yesterday in the Pan American Indoor Hockey Championship, losing to Canada in the Men's division and Trinidad and Tobago and the United States of America (USA) in the Women's section.

FLORENCE HALL, Jamaica, CMC – Dasun Shanaka stroked an aggressive, unbeaten hundred but fast bowler Keon Joseph led a focussed bowling effort to help restrict Sri Lanka A on the opening day of the second four-day "Test" here Thursday.

Future Stars secured the coveted Street Vibes Entertainment 'National Futsal Championship', dismissing Gold is Money by a 4-1 score line on Wednesday at the National Gymnasium, Mandela Avenue.

Tourney host, Upper Demerara Football Association (UDFA) was crowned as the inaugural GT Beer Intra-Association Football Champion, dismantling West Demerara 3-0 on Wednesday at the Mackenzie Sports Club (MSC) ground, Linden.

BULAWAYO, Zimbabwe, CMC – Though winning the upcoming two-Test series against Zimbabwe will be vital, head coach Stuart Law said Thursday continuing to make key improvements as a Test unit would be the overall objective.