The Guyana Football Federation (GFF) has made a timely donation of footballs to the Indigenous Heritage Games which officially kicked off on Friday and ended yesterday at the Everest Cricket Club, ground.
According to a press release from the GFF, President Wayne Forde presented the equipment to Minister within the Ministry of Indigenous Affairs and Patron of Women's Football in Guyana, Valerie Garrido-Lowe.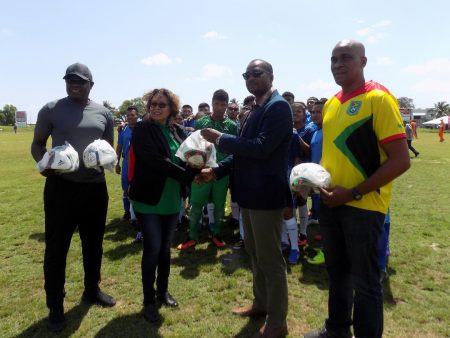 Forde, during brief remarks, said that the GFF is focused on catering to the specific needs of hinterland football development adding, "We have demonstrated that with the composition of our U17 team which recently competed in the CONCACAF Women's U17 Qualifiers and the U15 Boys Championship that just concluded in Florida. The level of representation we have at the youth level in the national squad will continue as these players mature in the senior setup. In the not too distant future, we will see national teams that are a full reflection of the diverse peoples of Guyana."
"This presentation follows technical capacity building provided to referees in the hinterland which will also see some of them officiating in the games to be held all weekend. Football is usually a key feature of the Indigenous Heritage Games, which is held as part of the observance of Indigenous Heritage Month," Forde stated.
Around the Web