Colts secured berths to the first and second-division finals while Pacesetters clinched a berth to the U23 final when the Georgetown Amateur Basketball Association (GABA) League Championship continued on Sunday.
Colts downed Kobras 90-79 in their first-division semifinal matchup at the Burnham Court on Carmichael and Middle Streets. Dave Causeway top scored with 21 points with Sheldon Thomas the next best scorer on 19 points.
Chipping in with 14, 13 and 12 points were Stanton Rose, Shane Webster and Shelroy Thomas respectively. For Kobras, Travis Burnett tallied a game-high 43 points.
He was assisted by Mark Richards, Carlos Edwards and Garfield Greenville, who scored 12, 11 and nine points apiece. In the second-division semifinal, Colts edged Sonics 61-59.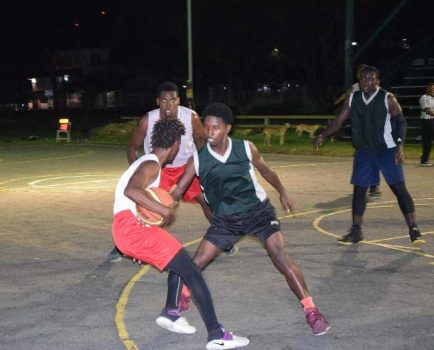 Jonathan Mangra, Evans Johnson and Jafar Gibbons recorded 12, 11 and 10 points for Colts while Jamal Weeks, Quacey Lindo and Yohan Burrowes, added nine, seven and seven points apiece.
For Sonics, Alex Murray shot his way to the game-high 31 points while Shemar Sharples and Richard Heyliger added nine and six points each. Meanwhile, Pacesetters clipped Eagles by a 91-85 score line in the U23 section.
Quincy DosSantos, Marvin Durant and Zion Gray led the winner with 23, 18 and 13 points respectively. The likes of Liam Fraites, Judah Stephney, Stephen Peters and Jude Corlette added nine, nine, eight and six points each.
For Eagles, Shamar Huntley, Patrice Agrippa and Kwesi Thompson were the main threats with 24, 19 and 14 points respectively. Contributing eight points each were Akil Vaughn, Mark July and Nikosi Allicock.
The respective finals for the three divisions will be contested in a best-of-three format at the same venue from tomorrow.
Around the Web