By Noelle Smith
At the tender age three Accalia Khan's mother signed her up for `Learn to Swim' classes with the goal of helping her to develop the skills necessary to hold her own and be independent in the water.
"Mom wanted me to not drown, ever!" she said jokingly in an exclusive interview with Stabroek Sport.
Her competitive training started at age of seven and she soon began to represent the club she was with at the time, Dorado Speed Swim Club.
Eventually she went on to represent the land of her birth – Guyana.
Presently she is a member of the Orca Speed Swim Club and still competes for the country.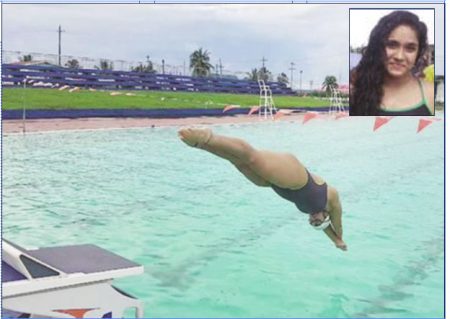 Over the years she has participated in other sports including karate, ballet and lawn tennis but swimming held top position in her heart.
"I tried karate in between but stopped as it would have been a contact sport so I just stuck to swimming," she declared.
Competing in the girls' 15-17 years age group at the Goodwill Games held here in August, she played a vital role in aiding the team to its third place finish. Together with her age-group teammates, the 18-year-old swam to silver and bronze medals in the 400m medley relay, 400m freestyle relay and the 200m freestyle relays. Following the Goodwill Games, she traveled with the Guyana contingent as a part of the swim team for the Inter-Guiana Games (IGG). Khan placed second and third at the IGG in the 50m backstroke and the 200m freestyle respectively to aid her team to a second place finish in Suriname. She has also competed in the Guyana Teacher's Union Inter-Schools Swimming Championships representing first Marian Academy and then the Bishops' High School.
At the GTU Nationals, Khan has taken home the champion girl trophy every year she has participated. Throughout the years, Khan has also been named the overall Guyana Amateur Swimming Association (GASA) Age Group Champion in most of her age categories based on her performances at local and regional meets.
Her achievements are credited to her strong mind and the fact that she sets high goals refusing to stop until she reaches them. Giving up is not something Khan does.
She stops when she is finished and to a very satisfactory degree. Being a student/athlete means commitment and dedication to school and sport; maintaining good grades, staying clear of injury prone activities and attending training as often as possible. Khan has been able to balance her school life with her love and dedication for the sport of swimming.
At the end of the last school year (2016-2017), she completed her first year of the Nations' Sixth Form getting noteworthy grades. The year before she was also impressive with passes in all the subjects she sat at the Caribbean Secondary Examination Certificate (CSEC).
"I'm currently struggling to find myself back in the pool after taking about four months for CSEC at BHS but it was worth it because I got 10 ones!" Khan stated.
She aims to continue her academic endeavors at a foreign institution on completion of her A Levels.
"I want to finish up my A Levels at Nations Sixth Form before starting preparations for the SAT's while I continue training. No major meets right now to focus on except for the A.S.A.T.T. Invitational in December but even that I'll have to see about," she said.
Like most student/athletes who are doing well for themselves in school and their respective disciplines, her aim is to attain a scholarship to a university abroad to continue her studies.
"I'd like to continue my tertiary education so along with my A Level Grades, since it's an English exam, and with swimming so far, hopefully I get a partial scholarship. If not a fully funded one."
Balancing school and swimming didn't seem much of a challenge for Khan because she learnt from a young age how to manage her time efficiently.
"Everything needs to be balanced. This time for this, that time for that," she said when asked how she was able to assign time for home-work and studies alongside the water time and dry land aspect of swimming. The understanding that 'time for this, time for that' is what she credits for her 10 grade ones at the CSEC. She knew easing off of swimming to focus on preparing for the examination was top priority. When people are still turning in their beds, Khan would be in the pool before heading off to school. After the school day has ended, depending on the amount of work to be done for school, she would either return to the pool or head home to focus on her work.
"Training is every day from 5.30 to 7 a.m. during the week. We also swim on Saturdays. Because I didn't really have the time to swim during A Levels last year, I was going to the gym three days a week to try remain some kind of fit. My timetable will not be the same as it was last semester so I will have to see how my schedule is in order to plan how I will get to train for the rest of this year".
At the age where most young people are interested in hanging out with their peers she would be at school or in the pool. This teenager has managed to make the best out of the situation by creating friendships with her teammates from her club, the national teams and her rivals and swimmers from the other countries she competes against.
"Going to these meets were always good for me because going to swim meets taught me how to make friends and develop connections with people from all over. It is easy to make friends and maintain friendships with swimmers from across the region due to the accessibility of social media," she said.
Her friends outside of her swimming world would also use local meets as a way of bonding when they go to cheer her on while she races.
Doing something for as long as she has been on the earth, with the only major cause for a break in the sport being to prioritize her examinations, it would be expected that there is something that is loved, to this she said, "My favorite thing about swimming is the moment you dive into the pool and there is a surreal feeling of quietness before the chaos of trying to move through the water fast."
As a competitive swimmer, the sense of calm and quietness just before the fight to win or to finish a race is what Khan loves the most. That feeling of peace that Khan mentioned upon entry into a pool whether before a competition or before even training sessions is something all 'true swimmers' know.
Around the Web