The National Ladies, National Black, Bounty Georgetown Cricket Club (GCC) and National Green hockey teams all won their matches when the GTT National Indoor championships continued Tuesday at the Cliff Anderson Sports Hall, Homestretch Avenue.
The National Ladies made light work of Hikers 8-2 in the veterans division with Aliyah Gordon and Trisha Woodroffe bagging doubles.
Gordon netted in the first and eighth minute and Woodroffe in the fourth and 17th minute.
Also on target in the third, 27th, 29th and 30th minute were Marzana Fiedtkou, Latacia Chung, Maria Munroe and Nicole Eastman respectively. Robert Fernandes and George Melville scored for the losing team in the 16th and 24th minute respectively.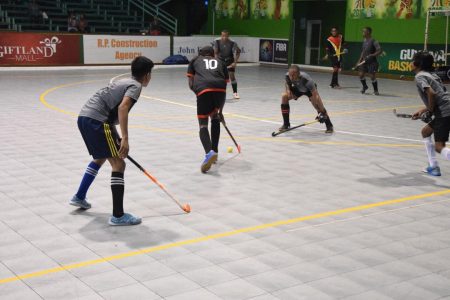 Meanwhile, National Black blanked St. Stanislaus 11-0 in a men's first division encounter. Robert France and Jamarj Assanah scored helmet-tricks.
France netted in the 30th, 31st, 33rd and 34th minute and Assanah in the 24th, 34th, 35th and 37th minute.
Andrew Stewart added a double in the 14th and 15th minute while Rayon Branford scored in the 27th minute. Similarly, Bounty GCC crushed Hikers 8-1 in the second match of the section.
Meshach Sargeant and Steven Xavier recorded double strikes.
Sargeant netted in the third and 31st minute and Xavier in the sixth and 34th minute. Adding goals in the fifth, 32nd, 38th and 40th minute were Shaquille Leung, Peter DeGroot, Mark Sargeant and Eric Hing respectively.
Hikers' lone goal was scored by Shane Samuels in the 22nd minute.
In another men's division one encounter National Green edged Old Fort 5-3 in the final match of that division.
Aroydy Branford scored a double in the 25th and 30th minute while Aderemi Simon, Jason DeSantos and Kevin Spencer netted in the 20th, 30th and 40th minute respectively.
For Old Fort, John Abrahams bagged a double in the sixth and 37th, while Askofu Simon found the back of the net in the 34th minute.
In other results, GCC Pitbulls downed Hikers 5-1 in the Men's 2nd Division, while St. Stanislaus College edged Saints 5-3 in the second matchup of the section.
Also, Old Fort and GCC Spartans battled to a 1-1 draw in the Women's Category. The tournament continues today at the same venue with another round of group fixtures.
Complete Results
Men's 1st Division
Game-1
National Black-11 vs Saints-0
Robert France-30th, 31st,
33rd and 34th
Jamarj Assanah-24th, 34th,
35th and 37th
Andrew Stewart-14th and
Rayon Branford-27th
Game-2
Bounty GCC-8 vs Hikers-1
Bounty Scorers
Meshach Sergeant-3rd and 31st
Steven Xavier-6th and 34th
Shaquille Leung-5th
Peter DeGroot-32nd
Mark Sargeant-38th
Eric Hing-40th
Hiker Scorer
Shane Samuels-22nd
Game-3
National Green-5 vs Old
National Green Scorers
Aroydy Branford-25th and
30th
Aderemi Simon-20th
Jason DeSantos-30th
Kevin Spencer-40th
Old Fort Scorers
John Abrahams-6th and 37th
Askofu Simon-34th
Women's Division
Game-1
Old Fort-1 vs GCC Spartans-1
Old Fort Scorer
Bushani Kaladeen-26th
GCC Scorer
Makeda Harding-30th
Men's 2nd Division
Game-1
Saints-3 vs St. Stanislaus
College-5
St. Stanislaus Scorers
Shakeem Faussette-8th and
9th
Leroy Geer-15th
Ethan Skeete-24th
Hilmar Chester-27th
Saints Scorers
Shemar Boston-2nd
Parmanand Dindial-9th
Ato Greene-12th
Game-2
GCC Pitbulls-5 vs Hikers-1
Pitbulls Scorers
Shaquille Leung-3rd and 5th
Lennox Carroll-3rd
Samuel Woodroffe-4th
Eric Hing-26th
Hikers Scorer
Michael Harding-12th
Veteran Division
Game-1
National Ladies-8 vs Hikers-2
National Ladies Scorers
Aliyah Gordon-1st and 8th
Trisha Woodroffe-4th and
17th
Marzana Fiedtkou-3rd
Latacia Chung-27th
Maria Munroe-29th
Nicole Eastman-30th
Hikers Scorers
Robert Fernandes-16th
George Melville-24th
Around the Web