The Guyana Football Federation (GFF) officially launched their CONCACAF D-Licence programme yesterday at the Olympic House, Liliendaal.
The four day programme which is geared towards 25 coaches from the Academy Training Centers (ATCs), National Sports Commission (NSC) and Schools, will be conducted by CONCACAF Instructors Lenny Lake and Juan Carlos Michia.
Michia during brief remarks said, "We are here to help you. While we don't have all the answers, one thing for sure is that we care for you guys because you are the future of soccer in the country."
On the other hand, Lake praised the idea of CONCACAF introducing certification at the Confederation level, declaring that it gives members from the Caribbean region an opportunity to certify their talents.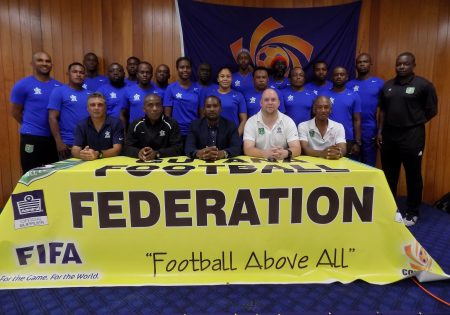 He further declared that the conduct and character of the individuals are also important, noting, that these two attributes are vital for the development of coaches.
Meanwhile, Ian Greenwood, GFF Technical Director said, "I am looking forward to seeing the work over the next few days towards your D-Licence. It is very important that you take on board everything that is said from the instructors".
He added, "Ensure that throughout the course that you participate, that you take time to understand what you are doing and why you are doing it. We are looking for really qualified coaches at the end and I am pretty sure every one of you will pass the course."
Around the Web