The National Blacks, Pizza Hut Georgetown Cricket Club (GCC) and National Ladies continued their unbeaten runs, when the GTT National Indoor Hockey Championship continued on Wednesday evening.
Staged at the Cliff Anderson Sports Hall, National Blacks downed Bounty GCC 7-1 in the Men's 1st Division.
Hilton Chester tallied a hat-trick in the third, 26th and 30th minute, while Jamarj Assanah bagged a double in the seventh and 23rd minute.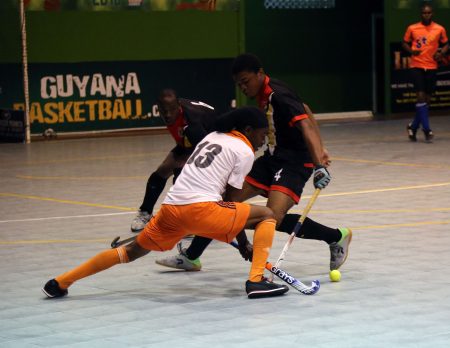 Adding to the scoreline in the 20th and 38th minute were Robert France and Andrew Stewart, respectively. For the loser, Dwayne Scott scored in the 42nd minute.
Meanwhile, Pizza Hut GCC dismantled GCC Spartans 5-1 in the Women's Section. Carina Moller recorded a double in the 12th and 17th minute while Sonia Jardine registered a brace in the 11th and 20th minute. Contributing a 32nd minute strike was Tiffany Solomon. On target in the loss was Kirsten Gomes in the 34th minute.
Similarly, National Ladies crushed Old Fort 9-0 in the second match of the division. Kerensa Fernandes bagged a double in the first and fifth minute, while Nicole Eastman, Gabriella Xavier, Trisha Woodroffe, Maria Munroe, Minsodia Culpepper, Marzana Fiedtkou and Latacia Chung scored in third, 10th, 18th, 22nd, 29th, 31st and 37th minute, respectively.
Other Results
Men's 1st Division
Old Fort-3 vs Saints-1: Old Fort-Jason Clarke-27th, 35th, Askofu Simon-18th: Saints- Yonnick Peters-8th
 Men's 2nd Division
Saints-3 vs GCC Pitbulls-2: Saints- Yonnick Peters-12th, 28th Kevin Edwards-13th: GCC Pitbulls- Andrew Xavier-10th, Lennox Carroll-22nd
St. Stanislaus College-1 vs Hikers-2: Hikers-Michael Harding-25th Ryan Branford-30th: St. Stanislaus-Shakeem Faussette-29th
Veteran's Division
Old Fort-6 vs Hikers-3: Old Fort-Dwight Sullivan-2nd, 15th, 27t, John Abrahams-5th and 19th, Dwayne Alleyne-27th: Hikers-James Mentore-8th ,Robert Fernandes-23rd ,Brian Asregado-26th
Around the Web