The People's National Congress Reform (PNCR) officially launched its Diamond Jubilee Family Fun Day yesterday as part of the entity's 60-year anniversary celebration.
The event which is being staged under the theme of 'United and Strong: 60 Years On' the People's National Congress Reform (PNCR), will be held at the Mackenzie Sports Club (MSC), Linden on October 29th.
Speaking at the launch which was held at Congress Place, Sophia, Chairperson of the Jubilee celebrations Junior Minister of Public Infrastructure Annette Ferguson, said, "This Fun Day & Sports activity is not only for members of the party but is also an occasion for every Guyanese regardless of political affiliation, colour or creed and I call on all to come out and enjoy a fun-filled day in the Linden community."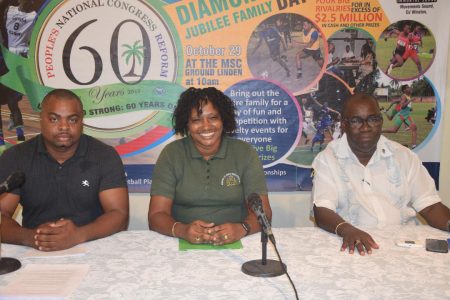 Meanwhile, Edison Jefford, Co-Director of the Coordinating Team revealed, that the reasons for the invitational nature of several of the disciples, was due to the time constraints associated with the event.
Among the sports that will be contested during the celebration are athletics, dominoes, futsal and basketball.
The inter-association basketball tourney will commence from 10:00hrs at the MSC Hard-court, with Berbice battling Georgetown for an opportunity to face-off with Linden, who as host was awarded a bye to the final.
Winner of the event will walk away with $100,000, while the second and third place finisher will receive $50,000 and $25,000 respectively.
The Futsal aspect will also be hosted at the same venue from 12:00hrs. 16 notable teams from across the country will battle for over $300,000 in prizes, with the winner walking with $200,000.
The second and third placed teams will pocket $100,000 and $50,000 respectively. With regards to the Athletics section, $750,000 will be up for grabs at the MSC ground.
The male and female events that will be contested are 100m, 200m, 400m, 800m, 1500m, 3000m and 5000m as well as the 4x100m and 4x400m relay events. Three athletes will be allowed to compete in each category from each club.
The always entertaining dominoes competition, which will be held in MSC pavilion, will feature 15 teams vying for almost $300,000 in cash prizes.
The family events  include the tug-o-war, lime & spoon races, quiz contest, buns eating, kids' zone, and bouncy castles. There will also be a 60-metre race for both male and female members of the executive committee of the Party.
Around the Web