Sophia, Tucville, St. Pius, and St. Ambrose won their respective matches when the Courts Pee Wee Football tournament kicked off yesterday at the Thirst Park ground.
Sophia made light work of Winfer Gardens 8-0. Ronaldo Wilson recorded a helmet-trick in the third, 12th, 15th and 22nd minute while Shem Howard, David Weeks and Leonard King scored in the 11th, 28th and 38th minute each.
An own goal in the ninth minute added to the result. Almost in identical fashion, St. Ambrose hammered Colaaco 8-0 with Jacob Rodney tallying four goals in the third sixth, 16th and 22nd minute, and Roven Henry scoring twice in the fourth and 30th minute.
DeAndre Anderson added to the rout in the 28th minute, alongside a ninth minute own goal. Similarly, St. Pius demolished F.E. Pollard 6-0.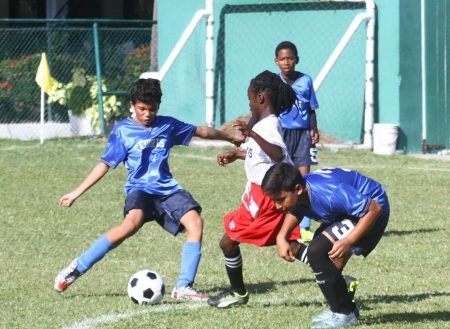 Dwayne Baptiste tallied a hat-trick in the second, 25th and 26th minute, while Kaven Wellington netted twice in the 21st and 24th minute and Manasseh Anderson scored in the third minute.
Tucville crushed Soesdyke 6-0. Carl Negus bagged a brace in the sixth and 20th minute, while Emmanuel Tinch scored in the fourth and 23rd minute. Adding to the score line were Ryan Greene and John Harry in the second and fifth minute each.
In other results, Den Amstel defeated Smith Memorial 3-0 while St. Agnes edged Grove 1-0, Victoria defeated School of the Nation's 3-1 and St. Stephen's needled Timehri 1-0.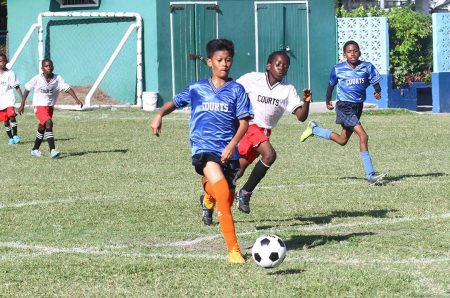 Stella Maris downed Mae's 2-0 and Redeemer defeated North Georgetown 2-0, while Supply defeated St. Margaret's after the latter fielded an ineligible player. The Camp Street unit had won the match 6-0.
Meanwhile, West Ruimveldt and Enterprise battled to a 0-0 draw while two-time defending champion St. Angela's was held to a scoreless result by Marian Academy.
Mocha and South Ruimveldt played to a 1-1 score. The event resumes at the same venue on October 7th.
Complete Results
Game-1
Den Amstel-3 vs Smith Memorial-0
Kelshon Humphrey-11th, 22nd and 26th
Game-2
Sophia-8 vs Winfer Gardens-0
Ronaldo Wilson-3rd, 12th, 15th and 22nd
Own Goal-9th
Shem Howard-11th
David Weeks-28th
Leonard King-38th
Game-3
St. Ambrose-8 vs Colaaco-0
Jacob Rodney-3rd, 6th, 16th and 22nd
Roven Henry-4th and 30th
Own Goal-9th
DeAndre Anderson-28th
Game-4
(*)St. Margaret-6 vs Supply-0
Mickelle Andrews-7th and 13th
Keoma Tait-14th
Joel King-6th
Joshua Abel-19th
Antoine Tait-37th
(*) St. Margaret's was disqualified for fielding an ineligible player
Game-5
St. Agnes-1 vs Grove-0
Isaiah Chester-14th
Game-6
West Ruimveldt-0 vs Enterprise-0
Game-7
Mocha-1 vs South Ruimveldt-1
South Scorer
Trayvon Bess-13th
Mocha Scorer
Jiheam Lewis-29th
Game-8
Victoria-3 vs School of the Nations-1
Victoria Scorers
Emmanuel George-28th and 30th
Desmond Clark-13th
School of the Nation Scorer
Jarell Ghaneshidin-11th
Game-9
Tucville-6 vs Soesdyke-0
Carl Negus-6th and 20th
Emmanuel Tinch-4th and 23rd
Ryan Greene-2nd
John Harry-5th
Game-10
Stella Maris-2 vs Mae's-0
Fedel Norville-7th and 8th
Game-11
St. Angela's-0 vs Marian Academy-0
Game-12
Redeemer Primary-2 vs North Georgetown-0
Nicholas Watts-18th and 22nd
Game-13
St. Pius-6 vs F.E. Pollard-0
Dwayne Baptiste-2nd, 25th and 26th
Kaven Wellington-21st and 24th
Manasseh Anderson-3rd
Game-14
St. Stephen's-1 vs Timehri-0
Joshua Leitch-15th
Around the Web