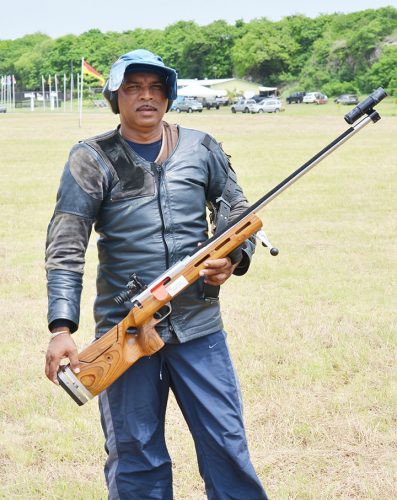 Guyana's fullbore captain Mahendra Persaud ended yesterday's second day of the 2017 West Indies Fullbore Shooting Council championships with a slim one point lead over England's David Calvert at the Timehri Rifle Ranges.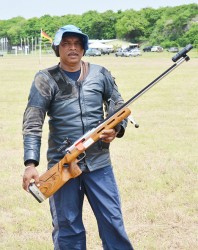 Persaud, who shot 134 on the opening day and 130 (27 v-bulls) yesterday, ended day two with an aggregate of 264 while Calvert, who had shot 131 on the first day and 132 (24 v-bulls) yesterday has an aggregate of 263.
Third place is occupied by Alexander Gill, 263/17, Lennox Braithwaite, 262/18, fourth, Nigel David Stangroom, 261/20, fifth, Charlotte Alice Staples, 259/24, sixth, Dylan Fields, 257/20, seventh, Stephanie Ward, 257/17, eighth, Christopher Fitzpatrick, 256/11, ninth, Sherwin Felicien 255/17, 10th  and Ransford Goodluck, 255/15, 11th.
Yesterday's the shooters contested the 500, 600 and 900 yard ranges and while a number of shooters recorded possibles at 500 yards only a few managed possibles at 600 and 900-yard ranges.
The competition continues today.
Comments

The Berbice Cricket Board (BCB) will know which direction it is heading today as the Court ordered election of office bearers of the body is expected to take place at the New Amsterdam Town Hall from 11am.
Under the recent restructuring of the Guyana Cricket Board (GCB) female Under 19 tournament, the GCB Select A defeated a Select B  team by 15 runs in the 20-overs-a-side match at the Everest Cricket Club yesterday.

History was created on Friday when Showstoppers secured their third consecutive Guinness 'Greatest of the Streets' West Demerara/East Bank Demerara zone title humbling ESPN 3-0 at the Pouderoyen Tarmac.

At 22-years-old Sachia Vickery might not quite yet have the world at her feet but she does most certainly have her tennis future in her more than capable hands.

Masters Academy, Sir Leon Lessons and Pure Masters secured lopsided wins when the sixth annual Milo Secondary Schools football tournament continued yesterday at the Ministry of Education ground, Carifesta Avenue.