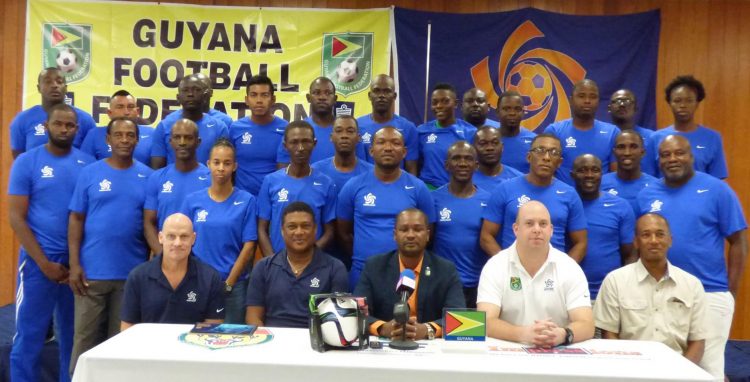 The Guyana Football Federation (GFF) officially launched their second D License course in less than month yesterday at the Olympic House, Liliendaal.
The four day programme, which caters for 30 coaches from the Aca-demy Training Centres (ATCs), National Sports Commission (NSC) and Schools, will be conducted by CONCACAF Instructors Anton Corneal and Vincent Ganzberg.
CONCACAF's Corneal during the feature address said, "We are here to help, not just in the classroom but outside of the classroom. The magic happens with you, because you are the ones that can make change." He added:"When we speak about what's development, it does take eight to 10 years. But you are the ones instrumental in guiding the young ones for that eight to 10 years."
He  said that the role of the coach is to teach the essence of life through the sport, declaring, I am happy that you are here and hope that we have fun for the next four years."
Ganzberg during his address said, "I am looking forward to working with everyone and that it is an honour and a privilege to be here." Meanwhile GFF President Wayne Forde said, "What we have occurring in Guyana football is a movement, and while a lot of the work we have been doing over the past two years don't necessarily grab headlines, it is clear that we are laying a foundation.
"The level of investment we have made in referees development, coaches development and the establishment of our Academy Training Centres nationwide, to anyone who has the slightest understanding of the game of football, will understand what we are trying to do is produce a production machinery that turns out excellent human beings year after year after year".
GFF Technical Director Ian Greenwood, said "We are looking to get as many certified coaches in the country as possible so that they will be available to apply for C Licenses and B Licenses."
Comments

Wicketkeeper batsman Anthony Bramble narrowly missed out on converting his maiden first-class century into a double whilst propelling the Guyana Jaguars to 417 all out on day two in their day/night encounter against the Leeward Island Hurricanes at the Guyana National Stadium, Providence.  
Michael Alphonso, Demetrius DeAbreu and Mohryan Baksh were amongst the winners, when the Farfan and Mendes Junior Skill Level Squash Championship, continued on Thursday at the Georgetown Club Facility, Camp Street.

Will champion Sparta Boss secure an unprecedented 'three-peat' of titles, or will Gold is Money finally ascend to the throne, when the Guinness 'Greatest of the Streets' Georgetown Championship, concludes tonight at the Demerara Park Tarmac.
Guyana's four-member team of boxers have all progressed to the medal round of the Caribbean Development Boxing Tournament which concludes tonight in St Lucia.
The Guyana Football Federation (GFF) is set to stage its Extraordinary Congress today from 10:00am at the National Racquet Centre, Woolford Avenue.