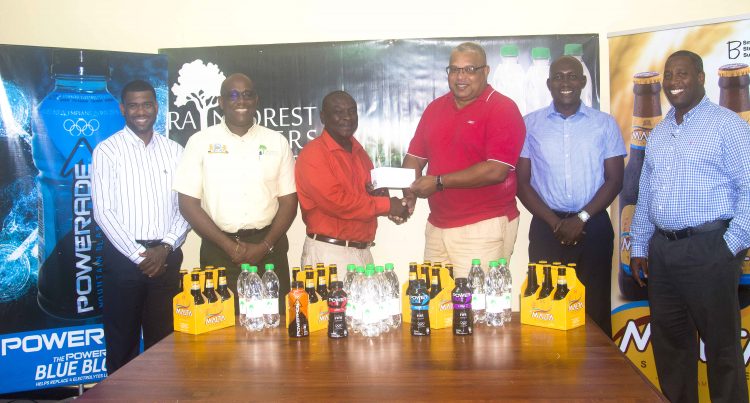 Banks DIH Limited is the official beverage sponsor of the Pan American Indoor Hockey Championship, partnering with the Guyana Hockey Board (GHB) under its Rain Forest Water, PowerAde and Malta Supreme brands.
The agreement was finalised on Wednesday, following a simple presentation ceremony at the entity's Thirst Park location.
GHB Vice-President Alan Newark accepted the sponsorship cheque on behalf of the association, adding, "Banks DIH has always being a partner of the Board and we appreciate the company playing a major in providing beverages and other support for the tournament."
Meanwhile Troy Peters, Communications Director of Banks DIH Limited said, "We extend a warm welcome to the visiting teams and officials, and look forward to a successful tournament with the expectation that the local men's and women's teams will emerge victorious."
Banks DIH Brand managers Clive Pellew (Water Beverage), Clayton McKenzie (Non-Alcoholic Malts) and Errol Nelson (PowerAde), as well as, Outdoor Events manager Mortimer Stewart, were also in attendance at the presentation.
The tournament will commence on Monday and will feature men's and women's national teams from Argentina, Barbados, Canada, Mexico, Trinidad and Tobago, United States of America, Uruguay, and host Guyana.
Comments

The Berbice Cricket Board (BCB) will know which direction it is heading today as the Court ordered election of office bearers of the body is expected to take place at the New Amsterdam Town Hall from 11am.
Under the recent restructuring of the Guyana Cricket Board (GCB) female Under 19 tournament, the GCB Select A defeated a Select B  team by 15 runs in the 20-overs-a-side match at the Everest Cricket Club yesterday.

History was created on Friday when Showstoppers secured their third consecutive Guinness 'Greatest of the Streets' West Demerara/East Bank Demerara zone title humbling ESPN 3-0 at the Pouderoyen Tarmac.

At 22-years-old Sachia Vickery might not quite yet have the world at her feet but she does most certainly have her tennis future in her more than capable hands.

Masters Academy, Sir Leon Lessons and Pure Masters secured lopsided wins when the sixth annual Milo Secondary Schools football tournament continued yesterday at the Ministry of Education ground, Carifesta Avenue.