PORT OF SPAIN, Trinidad, CMC – West Indies speedster, Shannon Gabriel, has come in for praise from veteran cricket administrator, Lockhart Sebastien, for his generosity in giving towards the hurricane relief efforts in Dominica.
Sebastien, a Dominican who is also a West Indies selector, said Gabriel made a substantial contribution before he left for the two-Test tour of Zimbabwe last Monday.
"I want to make a special mention [of] Shannon Gabriel. I met him last week and he said to me, 'Sebo, I need to give you some things to take home because things are rough.' I told him no problem," Sebastien recounted.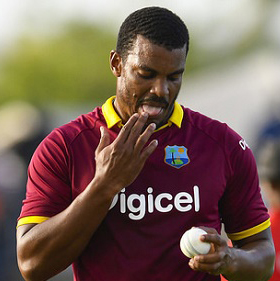 "On Sunday he came to the Brian Lara Stadium and he opened his vehicle and I asked him which box should I take? He looked and me and said 'everything.'
"In it were two brand new generators and maybe US$1 000 of stuff and I said to myself people look at cricketers and say they are greedy. This is a guy with a kind heart … I didn't ask him for anything and he brought all this stuff and you have to congratulate people like that.
"I was stunned by his contribution and Gus (Logie) made a contribution as well."
Hurricane Maria, a category five system on the Saffir-Simpson scale, struck Dominica last month leaving 30 dead and causing widespread devastation.
There was also damage to the country's lone Test venue, Windsor Park, which has hosted five Tests over the last seven years, including a thrilling finale to the recent Pakistan series last May.
The Trinidad and Tobago Cricket Board, Queen's Park Cricket Club and Sports Company of Trinidad and Tobago have joined forces to stage a Hurricane Relief Twenty20 match here Saturday, to raise funds for those countries affected both by Maria and Hurricane Irma.
Sebastien, a former Windward Islands player, said the situation in Dominica remained grave and any assistance would be welcomed.
"Some people will not be able to survive this and it would take a long long time to recover," he said.
"If you visited Dominica before the hurricane and return now you would wonder if it is the same place. Dominica was a country that had so many trees. It looks like some army men came and decided that they wanted to bomb the place.
"All our agriculture is gone and I fear we will be living very unhealthy in Dominica because our supermarkets were destroyed and we don't know what we will eat."
Comments

Guyana defeated Barbados 5-4 in the Men's division, to cap off a mixed day, following losses to Uruguay and Argentina in Women's section, when the Pan American Indoor Hockey Cup commenced yesterday.

BULAWAYO, Zimbabwe, CMC — West Indies bowlers, led by leg-spinner Devendra Bishoo, got a flattering boost of confidence in their three-day, tour match against Zimbabwe "A" yesterday.

Add an ounce of Guyana's world famous gold to Jamal John's collection of awards.

The meeting of Caribbean Boxing Presidents held here last Saturday at the National Resource Centre was a huge success that ended with cemented CARICOM unity.

After performing creditably at the recent International Cycling Union (UCI) World Masters Cycling championships in California, United States of America, Guyana's two-man team of Jolyon Joseph and Aubrey Gordon performed is calling for financial assistance to assist them in their quest to bring honour and glory to the land of their birth.