Sparta Boss, Back Circle, Gold is Money and Albouystown-A sealed their berths to the quarterfinals when the final group round in the inaugural Street Vibes Entertainment, Futsal Championships ended Thursday at the .
National Gymnasium, Mandela Avenue.
Sparta Boss brushed aside Broad Street 3-1 with Daniel Wilson, Sheldon Shepherd and Eusi Phillips netting in the 10th, 12th and 13th minute respectively.
On target in the loss was Shane Morris in the fourth minute.
In their top-of-the-table clash, Back Circle humbled Leopold Street 2-0 in a top of the table clash with goals from Jermaine Beckles and Delon Kelly in the 12th and 15th minute respectively.
Gold is Money edged North Ruimveldt 1-0 through a Deon Alfred 13th minute strike while Albouystown-A squeaked past Silver Bullets 4-3. Andrew Murray Jr., tallied a hat-trick in the fifth, seventh and 18th minute.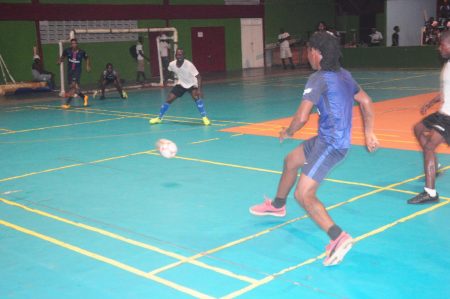 He was assisted by a Moses Grittens effort in the eighth minute.
For Silver Bullets, Damion Williams, Robin Bacchus and Jermaine Samuels netted in the second, 14th and 15th minute respectively.
Meanwhile, Hustlers dismissed New Market Street 3-1. Tevin Fowler, Stephon Reynolds and Josiah Charles were on target in the fourth, 14th and 18th minute correspondingly while New Market Street's goal came from an opposing player.
In other results, Future Stars maintained their undefeated record, defeating Dave and Celina's All-Stars via a walkover while MBK All-Stars and Swag Entertainment also gained walkovers from Tucville and African Team respectively.
Winner of the tournament will pocket $700,000 and the championship trophy, while the second, third and fourth place finishers will receive $250,000, $150,000 and $100,000 respectively and the corresponding accolade.
The sponsors of the event are Banks DIH Limited, the Guyana Police Force, Windjammer International Hotel and Cuisine and 94.1 Boom.
Final Point Standings
Group-A
Team                            GP   W   L    D  GF  GA  GD  Pts.
Sparta Boss (Q)              3    3     0   0   11   4   +7    9
Swag Entertain (q)         3     2    1   0     7   4   +3    6
Broad Street                   3    1     2  0     8   8      0   3
African Team                  3    0     3  0     3  13  -10   0
Group-B
Team                              GP    W  L  D  GF  GA  GD  Pts.
Back Circle (Q)                3      3    0   0  10    2    +8   9
Leopold Street (q)          3      2     1  0    6    4    +2   6
MBK All-Stars                 3     1      2  0    3    8     -5   3
Tucville                           3     0      3  0   3     8     -5   0
Group-C
Team                             GP   W  L   D  GF  GA  GD  Pts.
Future Stars (Q)               3    3    0   0    9     3   + 6   9
Hustlers (q)                      3    2   1    0    6    +     2    6
New Market                     3    1   2    0    6   8    – 2    3
Dave and Celina               3    0  3    0    3    9    – 6    0
Group-D
Team                                GP   W  L  D   GF  GA  GD  Pts.
Gold is Money (Q)             3      2   1   0   6     3     +3   6
Albouystown-A (q)            3      2   1   0   6     9     – 3   6
North Ruimveldt               3      1    2   0   5    4    + 1   3
Silver Bullets                     3      1    2   0   7    8     – 1    3
Legend
(Q)-Group Winner
(q)-Group Runner-up
Complete Results
Game-1
MBK All-Stars vs Tucville
MBK won via walkover
Game-2
Swag Entertainment vs African Team
Swag Entertainment won via walkover
Game-3
Future Stars vs Dave and Celina's
Future Stars won via walkover
Game-4
Hustlers-3 vs New Market Street-1
Hustlers Scorers
Tevin Fowler-4th
Stephon Reynolds-14th
Josiah Charles-18th
New Market Scorer
Own Goal-12th
Game-5
Gold is Money-1 vs North Ruimveldt-0
Deon Alfred-13th
Game-6
Back Circle-2 vs Leopold Street-0
Jermaine Beckles-12th
Delon Kelly-15th
Game-7
Albouystown-A-4 vs Silver Bullets-3
Albouystown-A Scorers
Andrew Murray Jr-5th, 7th and 18th
Moses Gritten-8th
Silver Scorers
Damion Williams-2nd
Robin Bacchus-14th
Jermaine Samuels-15th
Game-8
Sparta Boss-3 vs Broad Street-1
Sparta Scorers
Daniel Wilson-10th
Sheldon Shepherd-12th
Eusi Phillips-13th
Broad Scorer
Shane Morris-4th
Today's quarterfinal fixtures
Gold is Money vs Swag Entertainment-19:00hrs
Future Stars vs Leopold Street-20:00hrs
Back Circle vs Albouystown-A-21:00hrs
Sparta Boss vs Hustlers-22:00hrs
Around the Web