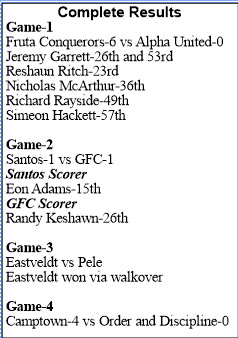 League leaders Fruta Conquerors crushed Alpha United 6-0 when the Georgetown zone of the National Milling Company (NAMILCO) U17 football league continued yesterday at the Tucville ground.
Jeremy Garrett scored a double in the 26th and 53rd minute while Reshaun Ritch, Nicholas McArthur, Richard Rayside and Simeon Hackett scored in the 23rd, 36th, 49th and 57th minute respectively.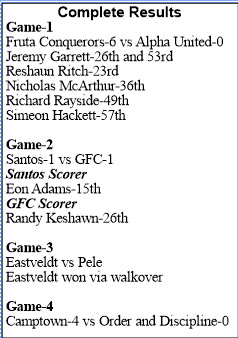 Camptown humbled Order and Discipline 4-0, Eastveldt gained a walkover from Pelek while Georgetown Football Club (GFC) and Santos battled to a 1-1 stalemate.
Eon Adams scored in the 15th minute for Santos, while Randy Keshawn equalised in the 26th minute.
The event resumes at the same venue with another round of fixtures on Satuday.
Around the Web