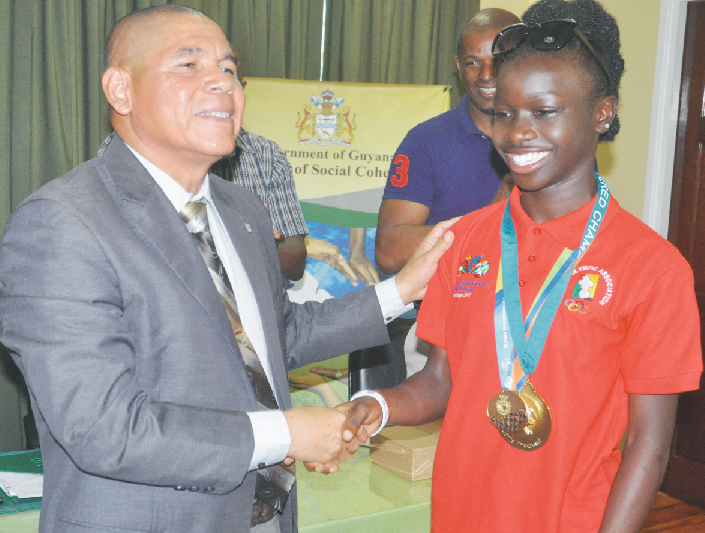 The National Sports Commission (NSC) and the Minister of Sport, Dr. George Norton, Friday repaid Guyana's Deshawna Skeete for her outstanding gold medal 400m run at the South American Youth Games with the ultimate insult.
They gave her a medal and not just an ordinary medal at that; they gave her the National Sports Commission (NCS) medal.
And the NSC medal was so special that they gave one medal each to the entire team that participated in the September 29-October 8 Games in Santiago, Chile.
Talk about rewarding our sportsmen and women for their athletic excellence, this takes the cake.
One wonders whether Minister Norton and Director of Sport, Christopher Jones bothered to read Rawle Toney's moving article headlined `A Mother's struggle turns to gold' which detailed the hardships and the sacrifices made by Skeete's mother, a single parent who, according to Toney, walked around the Linden community seeking assistance to help her daughter realize her dream.
"I would walk around Linden, begging people to help because there's no other way for her to really be able to run and get a chance to live her dreams of representing this country," Skeete's mother Nicketa was quoted as saying.
Now that she has realized her dream of winning a gold medal internationally for Guyana, 15-year-old Deshawna Skeete will have to face once more the harsh reality of what it is like for an athlete in Guyana, a country that does absolutely nothing to help their athletes be the best that they can possibly be.
If Deshawna Skeete wants to continue running for Guyana then her mother should be prepared to continue begging for assistance.
The government will not lift a finger to help.
Don't believe me? Just ask retired 800 and 1500m athlete Marian Burnett.
At the 2010 Central American and Caribbean Games in Puerto Rico, Burnett became ill during her bronze medal 800m run and she later vented her frustration to Stabroek Sports following the conclusion of the games.
This is what she said then: "Mr. Burke (Brandford) and the Chef-de-Mission (Dion Nurse) they knew that I was sick but I still decided to run because I really wanted to get a medal for Guyana.
"Coming down to the final 100m I was feeling woozy and after the race I had to go and see the doctor and my pressure was high.
"My pressure never went high like that before in my life. It took me four hours before they released me and they gave me medication to take," Burnett told Stabroek Sports in the exclusive interview.
She had also said that following her participation at the games she received no communication from any association in Guyana showing the faintest of concerns for her health.
"They didn't call me concerning my health or nothing. They don't know how you eating, sleeping, drinking, nothing. And this has been going on for years," she stated then.
"Basically I was overseas running from since `87 to now and I still haven't gotten a sponsor. I am doing this for my country, but I have to do it on my own. I don't get any sort of assistance from Guyana – the AAG, the GOA, nothing."
Sounds familiar doesn't it.
Skeete's mother too was peeved that none of the sports `big wigs' took the time out to go to the airport to welcome her daughter back home.
According to the Guyana Chronicle article, Weekes's mother was disheartened by the reception her daughter received upon her return to Guyana and moreso Linden. "Things like these really frustrate athletes and parents. Come on, some people don't know the sacrifices us parents make to send our children to these events, because the Government and those in charge don't do anything for them, everything is on the parents," Nicketa Skeete was quoted as saying.
So in a nutshell this APNU/AFC coalition government refuses to assist its athletes with their training expenses as they prepare for major international competitions, its sports officials do not go to the airport to welcome the athletes home after they would have run their hearts and souls out, and like `Lords over all they survey' they wait in their offices for the athletes to come running to them for little trinkets like NSC medals.
The NSC and Dr Norton just do not get it, today's athletes need funding in order to excel, not NSC medals.
Rewarding athletes
The subject of rewarding athletes for outstanding performances is one which should engage Minister Norton and Director of Sports, Jones.
In fact, Minister of Sport in the previous PPP/C administration, Dr. Frank Anthony, had attempted to address the issue after what seemed to be a discrepancy with the way athletes were being rewarded.
"We have a sub-committee in the National Sports Commission that we have asked to look at how we reward athletes and one of the things they will be considering is not only what kind of recognition that we give to them but maybe if we should offer incentives and what those incentives should be," Dr. Anthony told Stabroek Sports a few years ago.
He had added: "In a lot of cases we have been looking at athletes and rewarding them in an ad hoc basis and I think we need to stop that and put a system in place."
In the past whenever Guyanese athletes have excelled at the international level they have received in some cases land, cash and scholarships although, like Dr. Anthony said, the rewards have been done in an ad hoc manner.
One recalls the late boxer Andrew `Sixhead' Lewis being rewarded for winning Guyana's first world title while Shivnarine Chanderpaul was also handsomely rewarded when he made the West Indies team.
Several Guyanese cricketers have gone on to play for the West Indies but they have not received the amount or type of rewards Chanderpaul received. Likewise Guyana's Gairy St Clair won a world title but was not even voted Sportsman-of-the-Year.
As it stands this coalition APNU/AFC government should look at implementing a policy where it rewards athletes whenever they are successful abroad.
They should also look at covering the training expenses for national teams preparing for international competitions since, as Weekes's mother pointed out, the burden of the training expenses often rests with the athletes.
This is not an ideal situation because, in some cases, the athletes might not have the money to attend training or to eat a proper meal before training which could impact their performances internationally.
More emphasis also needs to be placed in areas such as diet and nutrition, training and equipment and coaching.
Amateur athletes need support and in some instances, so do professional athletes especially when they are just turning pro.
The government should, along with the national federations/associations and the Guyana Olympic Association (GOA) look to implement programmes to help motivate the athletes to train assiduously at all times and to try and be the best athlete they can be in an effort to, like Deshawna Skeete, realise their gold medal dreams and aspirations.
This APNU/AFC coalition government might have changed the minister responsible for sports by replacing Nicolette Henry with Minister George Norton, but their attitude towards the nation's sportsmen and women has not changed one iota.
Around the Web